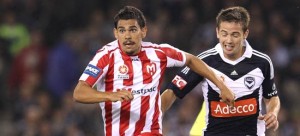 At 23, David Williams speaks and carries himself with confidence and a level of professionalism well beyond his age – one of the many positive effects of having made the enormous leap to travel to the other side of the world, away from friends and family, to chase his sporting dream.
In 2006, at the age of 18, David achieved that dream, earning selection in the first team of the biggest club in the Danish soccer league where he ended up playing for five years, but he'll also be the first to tell you that he has plenty more to achieve in his career, which is still in its early days.
After playing stints with the Brisbane Roar, Brøndby in Demark, the North Queensland Fury and Sydney FC, David – one of the most lauded Aboriginal soccer talents in the game today – has now landed in Melbourne to begin a three-year contract with the Melbourne Heart.
He comes with a big reputation and some huge expectations, trumpeted by his new club on the eve of the 2011–12 A-League season in a manner usually reserved for a marquee signing – and in many ways, he is. But pressure is something David has become accustomed to, ever since he was labelled by respected Australian coach Miron Bleiberg as the best Australian soccer prospect since Harry Kewell.
"Straightaway, comments like that put a lot of expectation on my game and the way I play," admits David, speaking from his Melbourne home.
"It's good to have expectations like that and it gives you some added pressure, which is a good and a bad thing, but I try to do what I can on the field and play my own game. I've taught myself not to read the papers too much or look into what is being said in the media, and I always believe that if I'm having fun on the field then it's always exciting for the fans to watch me."
After arriving in Melbourne a couple of months ago, Dave says he's settling in nicely, which isn't surprising, given that he's had to get used to all the travelling and relocating that comes with the territory of being a professional soccer player.
Originally from sunny Brisbane, David trialled with English giants Liverpool FC as a 16 year old, and then earned the interest of Brugge FC, before being signed up by Brøndby in Denmark,  where playing in the snow and freezing temperatures was just another experience and a lesson to learn along the way.
"So long as you had the right clothes you could handle it," he says, referring to the dramatic change in climate, just one of the many adjustments he would make in chasing his sporting dream. "It was difficult some of the time to go out in the snow and train. Because I was one of the young boys in the team, I had to go out half an hour earlier at training and clear the snow off the pitch with a big shovel, but at the end of the day it's all about the football and that's where your head should be at.
"I went over there trialling not only for the experience, but also because I wanted to follow my dream of playing football overseas, and I got a taste of that, I had a stint over there in Denmark and I can't wait to get back to Europe if the opportunity arises."
Another major sacrifice that needed to be made was the big decision to leave home, friends and family, but that was something David says he was more than happy to do in order to get to where he wanted to be.
"It wasn't hard for me at all," he says in reference to missing home. "I  did miss my friends and hanging out with them, but I could still have my family come and visit me. I had it put into my contract that flights would be available for them to come and see me… I was more worried about my football and my dream, that's all I thought about and I loved it over there, loved waking up everyday and going to training and kicking the ball around. For me it's the best job in the world, I wouldn't want to be doing anything else."
David first arrived back in Australia in 2009, on a loan deal from his Danish club with newly established A-League Franchise the North Queensland Fury. When the club went under, David played a short stint with Sydney FC in their Asian Cup campaign. Back on the market soon after, he fielded offers from a few clubs, but in the end opted for the Heart.
"Melbourne is a place that I thought I'd be comfortable in. I think the Heart are on the right track to becoming a successful club and I wanted to be part of that," he says.
At the Heart, he also landed smack-bang in the middle of the fastest growing sporting rivalry in Australian sport: the cross-town derby with the Melbourne Victory.
"You can tell by the first derby game last year how big this rivalry is becoming. There was a lot of passion, a lot of players getting fired up about it as well, and I think that's what creates a good derby, players getting fired up for it, I haven't played in a big derby like this before so I'm looking forward to it," he says.
Another thing David is looking forward to this season is scoring plenty of goals – regardless of where he is played on the park. The pacey striker can play any forward role across the park, and possesses out-and-out attacking instincts.
"I love floating around, anywhere around the box or in the middle of the pitch, but the coach has got me out on the wing and I enjoy that, too. I enjoy the freedom out there and that's what I want, I just want to be playing. I'll play any position to start a game, but if I had to pick a favourite position it would be up front as a striker in a 4-4-2 formation."
With plenty of hype surrounding the Heart this season, David has already got off to a solid start, scoring in the opening game of the season. Off the field, he also has some other major goals in mind, and one of them is encouraging more Indigenous youth to take up soccer, and to chase their dreams, just as he did.
"When I try to promote the football, it's not all about soccer for me," says David, "it's about how I can show some of the younger Aboriginal kids that they don't have to go down the same path as other people they might see around them. You can be a professional athlete, you can make it and do good things for yourself. I just like to put that out there, that no matter what's happening at home or around you, if you want to do it, you can, because there's no reason why you can't.
"I've done it, Travis Dodd has done it, so has Tahj Minniecon and Adam Sarota, he's the only Indigenous soccer player playing overseas at the moment – so there's no reason why any young person who is inspired to get there can't – because like we've shown, if they really want it, they can do it."