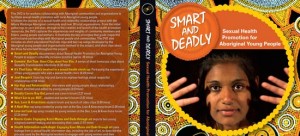 Respectful relationships, sexual health and feeling proud to be an Aboriginal teenager are some of the topics covered in a new DVD resource created by young people in North-East Victoria through The University of Melbourne's Centre for Excellence in Rural Sexual Health (CERSH).
The DVD and YouTube clip, called 'Smart and Deadly', is a guide for professionals and organisations wishing to collaborate with Aboriginal communities to deliver sexual health promotion to young people.
Following the journey of a year-long project with an Aboriginal community in North-East Victoria, the DVD illustrates the key principles that guide respectful and inclusive partnerships with Aboriginal communities. Humour and lots of laughter help make the serious topics such as ethical relationships, sexually transmissible infections, negotiating consent and respectful relationships easier to talk about.
Check out the clips at http://www.youtube.com/user/SmartandDeadlyKoori