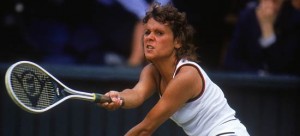 Australian and international tennis legend Evonne Goolagong Cawley was honoured at the 17th Deadly Awards with the Ella Award for Lifetime Achievement in Aboriginal and Torres Strait Islander Sport.
Accepting her award from the Ella family, Gary, Mark, Glen and Marcia, Evonne recalled her humble beginnings in Barellan, NSW. As a child, she used the wood from an apple crate to hit tennis balls onto a water tank, honing what would become her world-class skills with determination and commitment.
In a spine-tingling Deadlys moment, the Ellas acknowledged the pride they felt on behalf of Aboriginal and Torres Strait Islander people in presenting the award to a "true, global sporting identity".
"In her lifetime she has changed the world for all of us. She has inspired the women and the men of Australia for generations and still continues to do so. It is our honour to present this award to a sporting legend who is an Australian hero, not only to generations of Aboriginal people growing up in this country, but to all Australians," Glen Ella said.
Mark Ella echoed his brother's words: "This year's recipient of the Ella Award is a person whose achievements have made history, broken down barriers and instilled in our people an overwhelming sense of pride."
Sister Marcia Ella-Duncan also spoke of Evonne's rightful place in sporting history. "She is a woman who will be remembered throughout history for her unequalled achievements, her unshakeable dignity and her uncompromising gracious sportsmanship that still inspires us today."
When Evonne's name was announced, the applause from the capacity crowd at the Opera House was deafening. A clearly surprised Evonne, who had been presenting at the Deadly Awards earlier in the evening, accepted the award with the graciousness she is known for, dedicating it to the townspeople of Barellan who raised funds to give her a start in tennis.
"What a wonderful surprise. Absolutely fantastic," she said. "Growing up in Barellan I remember using wood from an apple crate and hitting balls onto the house water tank. I read a story about a girl in Princess Magazine who played tennis at Wimbledon on this magical centre court, and I used to imagine I was that girl, and I dreamed about that at night."
Evonne also recalled her early trips to Sydney and being overawed at the size of the Harbour Bridge: "We didn't have a bridge like that in Barellan."
She also remembers not having seen a teabag before and the loneliness of the big city for a young Aboriginal girl from country NSW. "I cried nearly every night but the one thing I did enjoy was being out on court."
As a shy, young teenager of 18, she made her debut at Wimbledon on that magical centre court she had dreamt about as a child.
"To get to centre court you had to walk along corridors and sit in a little room waiting for your game. All you hear is the ticking of the clock, and your opponent sitting opposite you, just the two of you in this small room. When I came out and saw the crowd, I didn't want to look up again, and after the game I got off the court as quickly as possible," she said.
"The next time I came back to Wimbledon at 19, I achieved my dreams, playing against Margaret Court and winning."
From that first Wimbledon Singles' trophy in 1971, Evonne then moved to America.
"I lived in America for a long time and
when I came back to Australia I wanted
to learn about the Aboriginal side of me.
I learnt that I'm a Wiradjuri woman and
I also have Scottish heritage," she said.
Having achieved her Wimbledon dream as that princess on the Wimbledon centre court twice – in 1971 and then again as a new mum in 1980 – Evonne again dreamed of achievement, only this time her dream was to nurture and mentor young Indigenous tennis players.
"I have another dream now: I want to see as many Indigenous tennis players as possible."
In accepting her award, Evonne paid tribute to Barellan. "They gave me my first racquet and paid for my clothes and trips to competitions. This is a wonderful award and I dedicate it to the township of Barellan."
Evonne Goolagong Cawley AO MBE, was born in Griffith and raised in Barellan. Her sporting achievements are what paves the way for her legendary status. She has won 14 Grand Slam titles: seven in Singles (four Australian Open, two Wimbledon and one French Open), six in women's Doubles and one in Mixed Doubles. She has won a total of 92 professional tournaments and at her second Wimbledon triumph in 1980, she became the first mother to hold that title since Dorothy Lambert Chambers in 1914.
She has been a mentor to Indigenous young people for the long haul. She has received a number of national and international accolades, including being named Australian of the Year and Female Athlete of the Year, being inducted into the International Tennis Hall of Fame and the Indigenous Hall of Fame and receiving the IOC Women and Sport Trophy for her services. She is currently Co-Patron of Reconciliation Australia with Sir William Deane.
Her talent, her achievements and her leadership are beacons that guide all Aboriginal and Torres Strait Islander athletes.