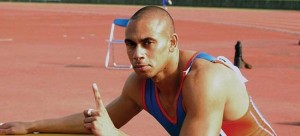 Patrick Johnson has just arrived at the Gadigal Information Service office in Redfern, Sydney, for a live interview with Deadly Vibe on the 'Black Gold' sports radio program. The location is literally a stone's throw from where he works: the National Aboriginal Sporting Chance Academy (NASCA) at the National Centre of Indigenous Excellence.
Patrick has only recently relocated to Sydney, having moved on from his previous job at the Department of Foreign Affairs in Canberra. Dressed in a smart business suit, he's here to talk about his remarkable, yet unlikely, career as one of the nation's greatest ever athletes.
'Unlikely' because Patrick didn't actually begin competing seriously until the age of 24 and also because, as he reveals in his 'Sliding Doors' moment, if it weren't for a quirk of chance and circumstance, he could have easily wound up playing rugby league for the North Queensland Cowboys  rather than running for Australia at the Olympics and the Commonwealth Games.
"In 1997, Tim Sheens flew me up to North Queensland where he was coaching at the time," remembers Patrick. "The night before I was set to play in the first trial game for the Cowboys, the Australian Institute of Sport offered me a full-time scholarship. I thought, okay, I've got a bit of ability in sprinting, let's see what I can do with it. And that's the true reality of life, you've got to roll with the punches, with what life gives you. I got an opportunity to have a scholarship, and I thought, 'I've got to give it a go.'"
Rolling with the punches and making the most of any situation are lessons Patrick learned early on. He was born on a speed-boat in transit to Cairns Base Hospital. His mother passed away when he was two years old, and Patrick spent most of his youth living on his father's fishing trawler in Far North Queensland.
"I believe it helped mould me into who I am," he says, about his not-so-typical upbringing. "Living on a boat, living off fish, crayfish and oysters, that was the life for me. I didn't see it as any different and I made the most of it. At times it could get very dangerous, getting caught in big storms on a mackerel boat, and my dad would tell me, 'If the boat capsizes, just do your best to swim to shore and grab onto anything you can.'"
That same attitude served Patrick well when he took up a scholarship at St Paul's International Boarding College in Moss Vale, NSW, where he suddenly found himself at school with mostly international Asian students who spoke very little English. In his unique fashion, Patrick simply adapted.
"Being a young kid coming off the boat and going into a school where no one really spoke good English, it was a culture shock for me," he says. "I said to them, I've got to learn your language, and I'll teach you English. We've got to come together, because if not I'm going to be miserable and I'm not going to like what I'm doing here."
Patrick was the first person in his family to attend university. He studied Human Rights and Asian Studies at the Australian National University, Canberra. But once again, fate intervened and sent his life in a completely unexpected direction when some mates from his touch football side encouraged him to enter an athletics carnival.
"I rocked up to the University Games with only three weeks' training," he recalls.
"My mate gave me some spikes to wear that were three sizes too big for me. Here I am getting ready to race and there's these people dressed up with nice spikes, shouting out and talking to themselves. I was looking at them thinking, 'What's going on? Is he calling out to somebody?' The gun went, and I was still standing there, and my mate yelled, 'Just go!' To everyone's surprise I caught up with them and went past them and won the University Games. I think I had a ripped Bonds shirt on or something – it looked like I'd just come out of the bush really."
In a matter of months, Patrick would be training at the AIS on a full-time scholarship where he formed close bonds with Indigenous athletes Kyle Vander-Kuyp, Nova Peris and Cathy Freeman. "We were just like family," he says. "We supported each other and we laughed and joked around a lot. People would look at us like, 'Why are they joking around so much? You've got to be serious.'"
Despite having only just competed in his first race, Patrick soon found himself lined up on the blocks alongside the likes of Linford Christie and Carl Lewis. "I had a steep learning curve straightaway, and I couldn't actually go to these guys and say, 'Look, I started last month, can you take it easy on me?" he says.
Patrick's rapid rise in the sprint world took him to the 2000 Sydney Olympics where he raced in the 100m, 200m and 4x100m relay. He admits he put too much pressure on himself at the time.
"I wanted to enjoy it, but I put that pressure on myself, and I've learnt through the years that's the worst thing we can do – put pressure on ourselves rather than just enjoying the process. You do it because you love it, not because of the expectation or the gold medal, but for the feeling of being the best."
Having leapt from complete obscurity to competing at the Olympic Games in
just three short years, Patrick could have left the sport then and there, having achieved something extraordinary – but the major highlight of his career was yet to come.
On 5 May 2003 in Japan, Patrick's journey – from fishing boat to language student, then rugby league player to Olympian and international sprinter – reached a defining moment when he made history by becoming the first ever Australian to run the 100 metres in less than 10 seconds. He crossed the finish line with a time of 9.93 seconds, an Australian record that still stands and was, at the time, the 17th fastest 100m time ever recorded, as well as the fastest ever achieved by an athlete of non-African descent.
"I was in a little placed called Mito," says Patrick, casting his mind back to that memorable day. "The track was surrounded by little rice fields. I think I'm a fairly simple person by nature, so I think I felt at home there in that sense, and it was time for me to let loose.
"I showed a lot of ability leading up to that, but there was always that question: 'You haven't run the sub 10… you've shown ability, but when are you going to do it?' And there was always the 'You're never going to do it' humbug. So to have my first race in '97 and then go on to break the Australian record at age 30… I think later on in life I'll look back with my kids and grandkids and say, 'Hey, I wasn't a bad runner', but at the moment I'm still just living life and making the most of it."
While the 9.93-second record will live on in history, just as rewarding was a more recent achievement in 2010 when, against the odds, and at the age of 37, Patrick won the national 200m title, and booked his place in the Australian Commonwealth Games' team for Delhi.
"I think in a lot of ways it shows anything is possible, and I proved that," he says. "I ran 10.18 that year, which means I was one of the fastest guys in the country, so it shows if you put your mind to it and get the right support, you can be anything you want."
While he is yet to retire, Patrick is now easing into the next phase of his life, one where he hopes to support and develop future Aboriginal champions of sport, through his work with NASCA.
"I'm still training three times a week at the NCIE, and I'm looking at being a coach as well. I'm nearly hitting 40, I'm realistic, and looking at it now I run simply because I love it, and I love coaching.
"At NASCA I work on a program called the ARM Tour (Athletes as Role Models), which takes elite athletes out into remote communities, so that's my passion now, to look at the next generation and support them and raise awareness on education, health and well-being."
When pressed on whether he'll be competing for a place in the 2012 Olympic squad, he offers a polite 'no comment', accompanied by just a hint of a smile that suggests we haven't seen the last of Patrick Johnson yet. It may be a long-shot, but we're talking about a man here who has risen to every challenge in his life, and built a legacy on defying the odds.
So when he does eventually decide to hang up the spikes for good – just how does Australia's fastest man want to be remembered?
"I want to be remembered as someone who's given the utmost to my country and my people," he says, "and that I've done the best I can".