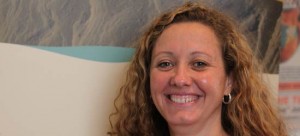 Australia's first Aboriginal pharmacist Faye McMillan is passionate about the opportunities education can offer Aboriginal and Torres Strait Islander young people.
Faye, a Wiradjuri woman from Trangie NSW, was among the first graduates to receive a Bachelor of Pharmacy degree from Charles Sturt University (CSU) in 2001.
"I came to university as a mature age student from being a pharmacy dispensary assistant in Trangie. I had no chemistry study behind me at all, but I had lots of support from my family and friends," Faye recalls.
"Studying pharmacy was hard and immensely challenging but I got lots of tutoring and made sure I availed myself of everything that was at CSU. I also didn't give up because I didn't want to let my family down, or CSU."
After completing her university studies, Faye undertook her pharmacy pre-registration year at Wagga and then went onto work part time at CSU's Indigenous Student centre, Ngungilanna, before working at the Aboriginal and Torres Strait Islander Commission.
"I then took up a position on the Tiwi Islands as the only pharmacist on the Islands at the time, and I've also worked overseas as a pharmacist in Vancouver, Canada," Faye says.
Education has been a lifelong journey for Faye and once she'd completed her Bachelor of Pharmacy degree, she went onto complete a Masters in Indigenous Health. She is now the director of the Djirruwang Program at CSU, which is a Bachelor of Health Science (Mental Health) program for Aboriginal and Torres Strait Islander people that focuses on the mental health needs of the whole community. The course is only available to Aboriginal and Torres Strait Islander people.
Faye became an ambassador because she wants the opportunity to share her story with young Aboriginal and Torres Strait Islander people and be a positive influence on them.
"Maybe, I will influence just one young person and make them believe that they are worthy of the opportunities education will bring – change someone's mind and ignite a passion for something they hadn't thought of before," she says.
Faye has been an Indigenous Education Ambassador since 2011 and has visited schools in the Wagga NSW region. She enjoys talking about the importance of education.
"Education allows Aboriginal and Torres Strait Islander people to make better choices and more informed decisions. It's not just about going to university, but finding out what you're passionate about and learning about that," she says.
"We are always learning, and there are always opportunities to learn whether that is in a classroom or picking up a newspaper and critically reading it."
More information on the Indigenous Education Ambassador Program can be found at www.deewr.gov.au/Indigenous/Schooling/Programs/Pages/Ambassadorsprogram.aspx
And teachers, if you would like an Indigenous Ambassador to visit your school fill out a Request an Ambassador application on the website.