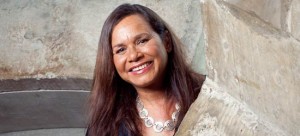 The popular Message Sticks Festival is on again at the Sydney Opera House from 27 March until 1 April. This year the festival is broadening to include music, talks, dance, storytelling and exhibitions as well as its customary film screenings. Popular media personality and creative producer, Rhoda Roberts, is the Artistic Director of Message Sticks and new Indigenous Programmer at the Opera House.
Under Rhoda's skilful artistic direction, this year's festival expands on the popular film component of previous years in several key ways.
"We wanted to make it a bit more of a multi-arts festival this year. It started out like that, but recently it had focused more on film and a really great film program was developed, so we also wanted to continue that," Rhoda says.
"Before, Message Sticks only used to screen films made by Aboriginal people and we have tried to make that a bit broader."
This year, Message Sticks includes films such as Babakiueria, No Fixed Address on Tour, Living The Intervention, Tent Embassy, The Kimberley, Nalingu (Yours and Mine), Smudge, The Russians Are Coming, Jandamarra's War, Toomelah and Kanehsatake: 270 Years of Resistance. There are free screenings and talks on various films.
Rhoda says the recent events at the Aboriginal Tent Embassy have allowed the showing of a series of films from that era.
There are also talk sessions with film buffs Margaret Pomeranz and David Stratton, Gary Foley, Larissa Behrendt, Damien Curtis, John Pilger, Mitch Torres, Jeff McMullen, Alec Doomadgee and Rosalee Pearson, Bart Willoughby (No Fixed Address) and George Negus among others.
"We wanted to broaden the audience and bring in community people as well. We have incorporated black and white speakers, and performers," she says.
"Neil Murray and Shane Howard – people forget how much they actually did in setting up the Warumpi Band and Goanna – they are performing with Archie Roach in the Icons show.
"All three had major hit songs – Archie with Took the Children Away, Neil with My Island Home, and Shane with Solid Rock. The Street Warriors with Shannon Noll have just re-done that song.
"These three performers bring a new perspective. When you hear them talk about how it was to work with blackfellas in those days it is really interesting."
There are some other great acts performing including Casey Donovan, The Black Arm Band, Api with Ernie Dingo, and Tri Nations.
"Casey Donovan is doing a show. A lot of people just still think of her from Australian Idol, but she has been doing so much more – like the Mama Cass show. Emma Donovan and Ursula Yovich are performing as well with Women's Business.
In her new role, Rhoda wants to try and increase audiences for events and encourage communities to come to the Opera House.
"Very few groups, apart from the Deadlys, have achieved that, but I want to build capacity within the house so that the other things that happen at the Opera House could have an immersed version of Aboriginal culture – so it's not just 'oh well here is the Aboriginal festival, etc', but for them to work across the board with us.
"In things like the Dangerous Ideas conversation program – to have Aboriginal stuff in that as well. It is also about building the Aboriginal culture within the Opera House, so that it just becomes part and parcel of the Australian culture.
For a full listing of the events at Message Sticks 2012 go to www.sydneyoperahouse.com/About/Program_MessageSticks2012.aspx