Mobfest is a two-day festival where music based education takes centre stage and students from Indigenous remote communities get the opportunity to share their achievements with other schools, their families and their peers.
Mobfest is run by Music Outback. It is a travelling festival that is held each year at a central participating school in each region. Mobfest combines performance opportunities on the main stage with workshops covering a broad cross-section of the creative arts including dance, instrument making, music technology, and massive drumming ensembles.
Music Outback general manager David Meltzer says Mobfest engages students at a deep level, and gives every student the chance to shine as they perform their own unique repertoire of songs on the big stage. He says the programs have strong sup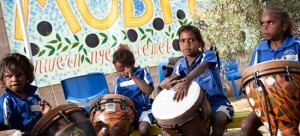 port from community Elders.
"We work in remote communities through music workshops using local languages. We aim to increase self-esteem, literacy and numeracy outcomes through song writing and increase children's engagement with their education," David says.
Mainstream schools are usually well resourced for music and arts activities that include ample opportunities for public performance. On remote Indigenous communities, however, it takes programs like Music Outback's and events like Mobfest to allow remote kids to discover their own potential in the creative arts.
"At Ernabella recently we had over 400 kids attend and the dance competition was spectacular. Shane Howard performed the Goanna hit 'Solid Rock' in Pitjantjatjara language with a local choir. It was a great team effort to get the children up singing and dancing like that."
"Each year, these performances give students a growing sense of self-esteem and a vision of their own potential.  Indigenous kids can be very shy, so performances in front of community, families and friends provide critical opportunities for self-belief and confidence in what they can achieve."
The next Mobfest is on at Ti Tree in the NT, on September 18 and 19. It will include Ti Tree women sharing tradition and culture. At Mobfest Tanami, held each year at Ti Tree – at least 30 community elders deliver a traditional culture program to students as a key component of the festival.  With dance, singing, carving and other activities, students get the opportunity to learn about their culture and their dreaming – while community elders use the festival as a platform to sustain and maintain their traditions.