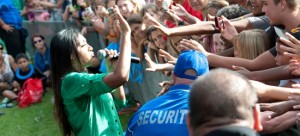 Red Ochre award-winning performer and Western Arrernte man Warren H Williams and Pitjantjatjara singer-songwriter Frank Yamma will headline this year's Yabun Festival on Saturday, 26 January in Victoria Park, Sydney.
The legendary Archie Roach will also be playing, along with an all-star choir, performing songs from his latest album Into the Bloodstream. Yabun is also bringing legendary rock band Mop and the Dropouts back to Sydney.
The 11th Yabun Festival will present some of the best Aboriginal and Torres Strait Islander music from around the country.  The main stage will be hosted by the fabulous burlesque performer Constantina Bush, with popular Australian personality Alec Doomadgee.
Other performers include hip-hop queen Dizzy Doolan, reggae heavy-weights Dubmarine, Sydney based Izzy N the Profit, Vic Simms and Ursula Yovich, and Queensland rapper JPoint, along with emerging artist Thelma Plum. Blues legend Marlene Cummins will also be appearing.
Yabun 2013 will be celebrating the 20th Anniversary of Gadigal Information Service, as well as 10 years of Koori Radio's 'Young Black and Deadly' project and the 75th Anniversary of the National Aborigines Progressive Association.
The General Manager of Gadigal Information Service, Lily Shearer, says this year's Yabun Festival is going to have it all.
"The Yabun Festival has grown into Australia's premier one-day event, celebrating Aboriginal and Torres Strait Islander arts and culture. Our 11th Yabun Festival will be an outstanding celebration of the achievements we have made and continue to make as Aboriginal and Torres Strait Islander people," Lily says.
"Yabun means 'music with a beat' from the Sydney Aboriginal language. While our hearts are beating, we will gather our families and friends to celebrate with music, dance, food, stories and laughter and acknowledge our history. That's the heart of Yabun Festival and why it keeps getting stronger."
Favourites such as the youth stage and the Culture and Speak Out tents are back once again this year.
"The Young Black and Deadly will host the youth stage and past recipients of the program will perform. The kids' stage will also be alive all day with some amazing performances and kids' activities to keep the children busy," Lily says.
"The Culture and Speak Out tents include many Aboriginal and Torres Strait Islander community members taking part in the latest issues affecting our community."
For the first time this year, Yabun will host the Gadigal Art Embassy, a large area of the festival committed to Aboriginal and Torres Strait Islander Arts. Artists featured in this area include Adam Hill, Brook Andrew, Boomalli Aboriginal Artists Cooperative and many more, who will be displaying their large and small artworks. There will also be more than 60 stalls, workshops and plenty of other attractions throughout the park to keep the crowd entertained.
Presented by Koori Radio 93.7FM, the Yabun Festival started in 2003 and is held annually on January 26. It is the largest one-day Aboriginal and Torres Strait Islander festival, with an audience of between 20,000 and 25,000. The Yabun Festival is held in Victoria Park, City Road, Broadway, Sydney.
Yabun will open with the Kevin Cook Lecture starting at 10am followed by the traditional opening ceremony with the Doonooch Dancers, Albert David, Patrick Thaiday and more. The Yabun Festival finishes at 6.15pm and will be followed by the Yabun After Party.
For more information, go to www.gadigal.org.au