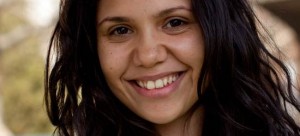 National Youth Week is Australia's largest celebration of young people. It runs from Friday, 13 April right through to Sunday, 22 April and this year's theme is "Imagine. Create. Inspire."
Events are run for young people by young people, and each year ten people aged 12-25 are selected as Young Members to help make decisions about how NYW runs. There is a Young Member from each state and territory as well as an Australian Government member and this year, the Aboriginal or Torres Strait Islander member is an inspirational young Aboriginal woman from Canberra by the name of Casey Keed.
Casey is the principal teacher and artistic director of a hip hop and contemporary dance group, Dance Beyond Barriers (DBB). DBB has a professional young adult performance arm and an outreach arm working with at-risk kids aged 12 to 25.
''I'm looking forward to seeing the different events that each state will be holding,'' says Casey.
As well as the Young Members, each year, National Youth Week also has several ambassadors who come on board to help support the week, such as Maydina Penrith.
Maydina is the National Indigenous Football Coordinator for Football Federation Australia. She is an active and motivated volunteer for Indigenous education programs and the youth-led sector. So far, Maydina has worked with youth-led organisations, including the Foundation for Young Australians, NSW Youth Participation Action Committee and the NSW Youth Advisory Council.
Casey and Maydina are keen to see more Aboriginal and Torres Strait Islander young people participating in NYW events, and would like to encourage them to enter NYW competitions such as the National Talent Competition, where you can WriteIT, SnapIT, ShootIT, DesignIT and RockIT, and win free stuff.