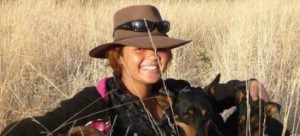 This month›s Young Achiever is an Indigenous science scholar, who has won the prestigious Mulpha Leadership Award at an International Science School.
Joelene Puntoriero from Noonamah near Humpty Doo, NT, was selected for the award from 150 of the world's top secondary-school science students who attended the renowned Professor Harry Messel International Science School (ISS).
Joelene, a student at Taminmin College in Humpty Doo, 43km south of Darwin, says she was surprised and delighted to win the award.
"I was blown away by winning it because I was really just in my element making lots of friends from all over the world," Joelene says.
The Year 12 student has her sights set on becoming an Agricultural Scientist and has applied to study Agricultural Science at University next year.
But it is not all just science for Joelene. She also sings in the Taminmin College Choir, and works as a volunteer on a small cattle station, parades cattle at the local shows and this year she won the NT Young Rural Achiever award at the local Freds Pass Rural Show. On top of all that she enjoys the gentle art of… boxing!
Her advice to other young people chasing their dreams is to "work hard".
"If you have a dream – work at it hard. A lot of commitment is the only way you are going to get there. You are the only one that is stopping you, and you are the only one that can help you get there. Grab the lead and run with it," she says.
The ISS, created in 1962 by Professor Harry Messel, is a free science education program. Eight Indigenous science scholars attended the ISS this year.