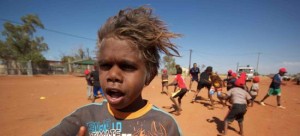 530km west of Alice Springs, right alongside the Northern Territory and Western Australian border, is the remote Aboriginal community of Kintore, or Walungurru, as it's known by local people in Pintupi language.
Before the settlement's establishment in 1981, many of Kintore's residents were living in the community of Papunya, having been forcibly moved from their traditional lands decades before, and so moving to Kintore was a long-awaited return to country, the 30 year anniversary of which has just been celebrated.
As part of those celebrations, a team from AFL Northern Territory, including former Brisbane Lions player and Indigenous Team of the Century member, Darryl White, visited Kintore to host a coaching clinic and meet the community.
Held over three days, the celebration drew over 1000 people, who took part in cultural dance and storytelling, watched historical documentaries, were entertained by desert bands and got involved in the football clinics.
"It's great to be part of the AFL program to work with communities. The love for footy in remote communities is unbelievable, with the Hawks owning one town and the Lions owning the next," said Darryl White.
"I'm originally an Alice Springs boy so I have connected with a lot of old friends and family here. We've spotted some future Liam Jurrahs and can't wait to come back and work with them."
Other notable visitors included Shellie Morris, Sammy Butcher and Neil Murray, along with politicians Peter Garrett, Malarndirri McCarthy and Alison Anderson.
"Friends and family came from near and far to support and participate and we really enjoyed the festival," said Pintupi Community leader Irene Nangala.
"The videos and photos made our people remember what life was like in the '70s at the mission in Papunya and the importance of the move back to Kintore."