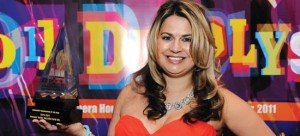 My name is: Karla Hart.
My position is: "Drive" presenter and co-host of "The RnB Show" on Noongar Radio (100.9FM). I am also Manager of and a performer with the Kwarbah Djookian dance group; a role model with Role Models Australia throughout remote WA; a lecturer at Polytechnic West for the Solid Ground course; a workshop facilitator in traditional dance, poetry performance, mask performance and creation and self-esteem and confidence talks.
My mob is: Noongar tribe and Minang and Goreng clans from down south in WA.
I live on: Whadjuk boodja (land) in Perth, Noongar country, but I come from Gnowangerup.
The population here is: The population of Gnowangerup is approximately 1400.
Brief History: The name Gnowangerup comes from the Aboriginal word 'Ngow', meaning Malleefowl. For thousands of years the area was a hunting ground for the Goreng Noongars. Gnowangerup is a small wheatbelt farming town, which many of my family worked on, and also the surrounding areas of Ongerup, Borden and Jerramungup.
Description: The Shire of Gnowangerup is in the Great Southern area, about 354km from Perth, 140km from Albany. Driving through the main street you'd think there was nothing to Gnowangerup because it's so small. It's dry country with plenty of kangaroos for food and bush food and quandongs in season. The bush was our playground when we were children.
Lifestyle:  Bush, quality time with family, yonga (kangaroo) meat, kaarda (goanna) meat and eggs, bush fruit, campfires, ashes damper, djilkying (yabbie) in summer, school and sport all year round.