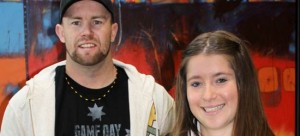 Biomedical Science student Dylan Shaw has just been awarded the Australian Rotary Indigenous Health Scholarship which will help her with university and living costs over the coming 12 months.
Dylan from the Paredarerme people in Tasmania has been studying at the University of the Sunshine Coast (USC). It's all part of her dream to one day work in forensic sciences.
"I love knowing about how the body works and I'm a problem solver. Forensic work has a lot to do with both," Dylan says.
Dylan of Glasshouse Mountain on the Sunshine Coast hopes to apply for an Aboriginal and Torres Strait Islander cadetship with the Australian Federal Police this year, so she can realise her dream of working in forensics.
Last year, Dylan received USC's first Jalarema Indigenous Scholarship and USC's Indigenous Access Scholarship.
Senior Lecturer in Nutritional Biochemisty Dr Mark Holmes says Dylan was a worthy scholarship recipient.
"Dylan is a high-achieving student in the Bachelor of Biomedical Science program who has expressed a keen interest in specialising in either forensic science or clinical trial management," he says.
The scholarship will help Dylan with study and living costs.
"I had to leave home in Year 12 but I went on to finish my Higher School Certificate and then went on to uni. The scholarship will help with everyday living expenses," she says.
Dylan was originally inspired to study Biomedical Science and tailor that degree towards a career in forensic science after watching the hit TV show CSI. "I watch Criminal Minds, House and CSI. I have a love of crime shows," she says.
She is also undertaking study in clinical trials, which will give her options to move into research if she decides.
"This would allow me to work in clinical trials, for example trialling new drugs for Parkinson's Disease, which there is currently no cure for. I'm not the sort of person to leave things to fate. I like to have a number of options and choices," she says.
Dylan is in her second year of a three-year Biomedical Science degree.