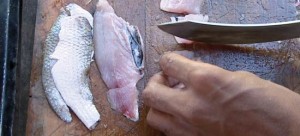 The name 'Barramundi' is an Aboriginal word meaning "large-scaled river fish".  Barramundi or Barra as it's known, is found across the Northern Territory and the Kimberley coast and throughout the river systems in Queensland. Barra lives in a variety of locations from open water, creeks, rivers and billabongs and can be both wild-caught and farmed. It's a big fish, and can weigh over 20kgs.
When you eat Barra you'll be getting plenty of good nutrition because it's a good source of protein and omega-3 fatty acids. It also contains essential vitamins and minerals like vitamin A and D, B vitamins, calcium, iron, zinc, potassium, magnesium and selenium.
Barra can be cooked using a variety of methods because of its moist texture and mild flavour.  It can be pan-fried, steamed, chargrilled or barbecued. Try serving it with leafy green vegetables like baby bok choy and rocket and you'll get to enjoy a tasty and nutritional meal.