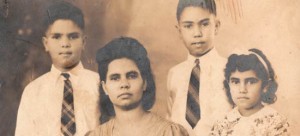 Little Birung is a musical song-cycle that tells the story of six generations of extraordinary Indigenous women from a North Queensland family. It opens at the Judith Wright Centre of Contemporary Arts in Brisbane on 16 November.
'Little Birung' is the story of Flora Hoolihan, the 96-year-old great-grandmother of performer Megan Sarmardin.
Megan, 27, already has a few stage credits to her name, both as a writer and performer, and she has appeared in a production of 'The Sapphires' when it toured to England's Barbican Theatre in 2011.
'Little Birung' is a compelling show that relates the stories of six women from Megan Sarmardin's family. Their stories reach back over 100 years.
Megan, from Mt Isa, has been co-writing the show for the past five years with composer John Rodgers.
"I have been involved in this from start to finish. It has taken six years. Not many people realise that it takes that long," she says.
Parts of the story have been told in other formats before, including the marriage of Flora's parents, Ngadjon woman Kitty Clark and Russian émigré Leandro Illin – which was the subject of both a book, My Dark Brother by Elena Govor, and an SBS docu-drama, Pioneers of Love.
'Little Birung' not only weaves in and around these stories, but also builds on them. These stories came down to Megan firsthand, and she explores how they have enriched her identity.
"It has been an emotional journey," Megan says, when Deadly Vibe caught up with her recently during the recording of an album of the show.
"Little Birung refers to Flora, my great-grandmother, who lives in Townsville, but the story goes right back to my great-grannie Flora's grandmother – to my great-great-great grandmother, Emily."
"It is told in songs. Each of the women have songs that relate to them and each has their own song in the show, too. One is 'Black Cockatoo', which is about great-granny Flora's mum (Kitty Clark) and how she left her land and followed her husband down south to Greenvale because he went down there for work. She was homesick for her mum and her land and her people.
"She died in childbirth. My great grannie Flora had to look after all of the other kids as well."
Megan says there is another song in the show about how one of these ladies was tricked and sent to Palm Island.
"That song is for Emily. She was taken there when she was 98. She was staying with some people on a farm, but they went into town to have a baby and the police came and tricked her by saying 'We have a good place for you to go to, you can have a holiday – it is called Palm Island," Megan says.
"She died there. My family members tried to get her back to Townsville, but they couldn't because there was a cyclone at the time. By the time they got there she had passed away. That song is called 'Emily's Song'."
Megan says she enjoyed the collaborative songwriting process with John Rodgers.
He and Megan bonded artistically when she starred in 'Bobcat Dancing' in 2003, and their unique collaboration has grown from then.
"It is a great partnership. I have learnt a lot from him about how to put a song together and the arrangement of songs," she says.
But Megan says she has had music in her blood from a young age.
"My dad's family is very musical, that's how I learned the guitar and my mum sang to me. I was involved in the Spinifex Country Music Club at home, and Flora can play the accordion," she says.
Megan says she felt privileged to be the one pulling together all of the stories of her ancestors.
"It feels special. I am privileged that great-granny Flora is still alive and I get to spend this time with her and get these amazing stories from her. She is still in the right frame of mind," she says.
Megan says she loves performing in the theatre and she has already landed some great roles.
"I was in 'The Sapphires', which went to London and was performed at the Barbican Theatre. I was away for two weeks. There was me, Casey Donovan, Ngaire Pigram and Lisa Maza. I played Julie, the youngest sister. It was my first acting gig and I got to go overseas. How cool," she says.
The songs in 'Little Birung' are in a range of styles, including  blues, folk, R&B, gospel, country and a touch of 1950s pop. She is accompanied by acclaimed guitarist Jamie Clark.
There are 16 songs in the show, which runs for 85 minutes with no interval. There is acoustic guitar, electric guitar and mandolin, as well as sound and images flashing behind – photos of the ladies and interviews with some of the women on whom the show is based.
It premiered to good reviews in Cairns last year under a different name, 'Blackbird'.
"It was very emotional in Cairns because most of the women (portrayed) in the show were in the audience," Megan says.