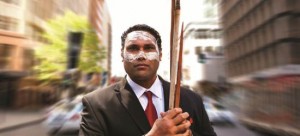 Indigenous theatre-maker Wesley Enoch is directing an ambitious new show for the Sydney Festival this month. I Am Eora will celebrate three heroes of Aboriginal Sydney, whose enduring spirits still inspire – Pemulwuy, Barangaroo and Bennelong.
The massive production features a huge cast of more than 50 Aboriginal musicians, performers, creative artists and technicians from across the country. They are coming together for one of the most thrilling collaborations ever commissioned by the Sydney Festival.
Writer/director Wesley Enoch and co-writer Anita Heiss have developed the story, which is a dynamic fusion of storytelling, dance, performance and film. It features a cast of iconic and emerging performers, including Jack Charles, Wilma Reading, Frank Yamma, and the Stiff Gins.
"It is a big show on a huge stage that is 15 metres wide and 22 metres long. There are about 15 songs in it. There are a lot of images and songs telling the story – kind of like Black Arm Band do. We're doing songs that tell a story as well. It is telling a story using music and projection and not relying too much on the written word," Wesley says.
"We are using the story of Bennelong, Pemulwuy and Barangaroo as the starting point, not so much to tell their story but to say the spirits of the warrior, the nurturer and the interpreter still exist today and that there's a connection that we have to these historic figures – that we continue their legacy today."
Wesley says he is looking forward to the challenge of bringing it all together.
"It is great working with so many people in a massive multimedia show. It is a bit daunting to coordinate all of these people – but daunting in a good way. I think of all the experiences I have had and it is something I think that all Indigenous artists need at some point in their lives – to be ambitious. Here is an opportunity for a lot of actors to do something ambitious and interesting."
Wesley is also the new Artistic Director of the Queensland Theatre Company (QTC) – the first Indigenous person to hold this position – but he knew he wanted the job since he was 15.
"I knew even then that I wanted to run this company one day. I was precocious," he says.
"As a kid I wanted to get as many theatre experiences as I could. Theatre was something that saved my life – I was a violent child. I didn't have much direction. Theatre gave me that direction, gave me that awakening."
With Wesley at the helm, the QTC program will feature a lot of Indigenous work this year.
"I have been waiting for my program to start. Our Indigenous program for next year is big. We are spending $1 million on our outreach program and a whole range of artists are involved. There is a real ambition to get more Indigenous artists working in big companies like that," he says.
This year's QTC program features Bloodland and Windmill Baby, as well as commissioning a new Indigenous work for young children.
"We are also helping organise the Festival of Pacific Arts – we are sending a delegation of 50 over to the Solomon Islands in July next year. We are also doing work in Indigenous communities with kids through our education program and also using an Indigenous producer – building up their skills."
There will be seven performances of I Am Eora as part of the Sydney Festival.
"With this project we have put in a lot of associate artistic positions, so that if we have employed a non-Indigenous person we have also employed an Indigenous person to learn those skills," Wesley says.