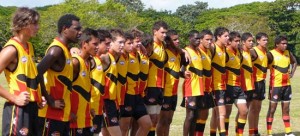 NRL player Anthony Mitchell has expressed his desperation to play for the Indigenous side at next years All Stars match to NRL.com.
Anthony is currently locked in a three-way battle with Travis Waddell and Joel Romelo for the hooking role going onto the late stages of Indigenous All Stars team voting, and described his All Stars debut in 2011 as both a rewarding and daunting experience. "You're playing with the best in the world, such as JT and Matty Bowen and the likes… you can go through the whole team! Obviously the opposition as well… but it was a great experience and they took really good care of me," said Anthony.
Anthony says he has fitted in well at Bondi Junction after Brian Smith brought him over from Parramatta midway through the 2011 season, and the Queenslander is preparing for a big 2011. However, first up, he has his heart set on representing his mob on the Gold Coast come February. "It's not every day you get selected in such a team and also get to represent your people so… get the votes in and hopefully I can!" said Anthony.
After being named Rookie of the Year at the International Rugby League Awards in London, 21-year-old Jharal Yow Yeh joked that he may as well retire from the sport now, such has been his golden run in 2011. In a year the young star won't forget in a hurry, Jharal scored in his State of Origin debut for Queensland, as well as in his Australian debut in May, and also scored in Australia's 30–8 win over England in the final of the Four Nations tournament. ''I didn't really think I would see too much of the action on this tour,'' said Jharal, ''I was happy just to be part of the squad and use it as part of my development."
Still on the Four Nations, Johnathan Thurston capped a magnificent tournament being named man of the match in the final, scoring four of his team's five tries. Thurston and Lockyer ended their halves partnership for Queensland and Australia at Elland Road with just seven defeats in their 37 games together, and the half-back said he was grateful for the opportunity to have played with Lockyer. "I'm really going to miss him," Thurston said. "I've been lucky enough to play with Locky for a very long time and learned a hell of a lot from him and it was a privilege to play in his very last game."
Thurston earned Man of the Match honours in three of his four appearances in the UK, missing just four conversions from 24 attempts.
The NBL has lost its most marketable and dynamic player, with NBA star Patrick Mills leaving Melbourne Tigers immediately to take up a lucrative contract with Chinese club the Xinjiang Flying Tigers. Since linking with Melbourne during the NBA lockout, Mills has sparked an unprecedented interest in the NBL while being the catalyst for Melbourne's 6–3 start to the season. The Portland Trail Blazers' guard had a get-out clause written into his Melbourne contract that allowed him to return to the NBA or accept a better offer should one arise. "We wish him well and we'll never hold back a player when he gets a good offer like that," Melbourne coach Trevor Gleeson told AAP. Reports suggest Mills could earn as much as $1 million with the new deal.
The AFL's Flying Boomerangs program has been nominated for a prestigious Beyond Sport Award in the 'Sport Federation or Governing Body of the Year' category. "Our programs are about building greater access to our game and using the game to increase opportunities for Aboriginal and Torres Strait Islander people," said AFL Indigenous development CEO Daniel Mifsud. "We aim to support better sporting, health, leadership, education, employment and cultural enrichment outcomes for Indigenous people across Australia. To have our program recognised internationally is very rewarding."
The Flying Boomerangs is a personal development and leadership program for young Indigenous men aged between 14 and 15. Part of the program includes international matches, and so far, the Flying Boomerangs have played against South Africa, PNG, Tonga and most recently Fiji.
The award will be judged by the Beyond Sport Panel of Ambassadors, which is chaired by former British Prime Minister Tony Blair with the winners to receive funding and further business support.
Over 80 junior Indigenous soccer players travelled to Jubilee Park in Ringwood on Saturday for Football Federation Victoria's inaugural State Indigenous Football Carnival.
The day featured a series of small-sided football matches as well as various cultural activities and workshops. The aim of the Carnival was to celebrate the involvement of Indigenous communities from around Victoria in the world game. AFL players Travis Varcoe and Nathan Djerrkura were in attendance – along with female Indigenous soccer star and Matilda Kyah Simon.
The AFL Draft has ushered in a promising new crop of Indigenous players to the league, and among the class of 2011 was 18-year-old Cameron Ellis-Yolmen – selected by Adelaide with the 64th pick in the first round.
At 189cm and 91kg, Ellis is an imposing midfielder and has been compared to a young Adam Goodes thanks to his freakish athleticism. His football career hit a roadblock in 2009 after rupturing his anterior cruciate ligament playing for Flinders Park in the SA Amateur Football League, but the promising young star has since fought back strongly from the injury and finished the 2011 season playing with the Eagles' reserves.
Selected by the Power with their prized 6th pick in the first round, South Australian Under-18 captain Chad Wingard is another Aboriginal player with a very promising future. "He is capable of doing some freaky things and making things happen for his team," said Power recruiting manager Geoff Parker. "As a pick six, he's going to be given the opportunity to play (next year)."
AFL talent manager Kevin Sheehan is also a big Wingard fan, saying, "He has the potential to be a star – his uncanny ability in the air and around goal sets him apart."
Chad described his drafting by Port Adelaide as a "dream". "I'm just very privileged," he said. "It feels like a dream to get drafted, to be able to stay in SA and to play for Port. Everything's come really quickly for me and at the moment I'm just trying to take it all in. But I can't wait to get to Port, to start training and to represent the club as best as I can."
Also, keep your eye on 18-year-old Bradley Hill, selected by Hawthorne with the 33rd pick in the first round. Bradley is the younger brother of Dockers star Stephen Hill and was the best performer in the 3km time trial at the draft camp, and he also broke the beep test record.