TAMARA PEARSON
Tamara is a former student of NAISDA and established herself as a hard working dancer and choreographer. She directed, choreographed and performed at her NAISDA graduation show called Thaaraamali, and became the first student in the history of NAISDA to become the director of its end of year show. Tamara plays an active role in the Indigenous dance circles in regional centres and major cities – she has an ongoing contribution to the Hopevale Pelican Project, which provides rest and respite for the community while engaging the youth with daily activities that promote caring for country, marine science and preservation of culture. Tamara is also involved with workshops all over the Queensland Cape York region travelling to communities such as Pormpuraaw, Hopevale, Injinoo, Bamaga, and Aurukun to teach traditional dance and contemporary hip hop and archive traditional stories that the children write.
DARREN COMPTON
Darren Compton is a dynamic young multi-skilled Indigenous performer, as well as a proficient didgeridoo player and dancer in both traditional and contemporary styles spanning the mainland and Torres Strait Islands. Performing with Doonooch and Koomurri dance groups, Darren's recent dance performances include a contemporary interpretation of a creation story from the Yuin people, dance and music performances to international students during Macquarie University's Diversity Week, and NAIDOC week celebrations at TAFE, Western Sydney.
JANET MUNYARRYUN
Janet Munyarryun is a founding member of Bangarra Dance Company and has given so much knowledge and culture to the company over the past 22 years. She has told stories through Bangarra's new show Infinity and has been selected to represent Indigenous Australian people in London and dance for the Queen. She has inspired many through her art and has taught people such as Christine Anu, Sean Choolburra and Stephen Page.
GHENOA GELA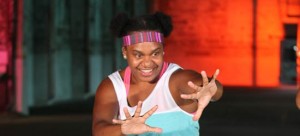 Ghenoa Gela's favourite style of dance is contemporary Indigenous. She says she has been dancing since she, "rolled out of the cot," and has been a traditional dancer for over 25 years. Her first taste of mainstream dance was when she attended NAISDA in 2005 where she studied for four years. She has recently been touring Australia with a show called Happy as Larry. She also does small gigs in communities where she teaches children Hip Hop. "I like to go back to my roots and I love teaching kids," she says. In 2011, Ghenoa was one of the main talents and choreographers on the ABC show Move it Mob Style®.
DANIEL RILEY MCKINLEY
Daniel's bloodline runs through the Riley clan of the Wiradjuri people, from the Wellington area of western NSW. From 1998 to 2003 Daniel was a performer and member of Quantum Leap and was also an inaugural member of Cadi McCarthy and Company. Daniel has performed nationally in Clan, True Stories, Mathinna, Fire – A Retrospective and Of Earth & Sky. Internationally he has performed Rites with the Australian Ballet, True Stories, Awakenings and Spirit. In 2010 Daniel made his choreographic debut for Bangarra with the work Riley. In 2011 he continued his work with Bangarra, performing in the national tour of Belong and the regional tour of Mathinna.