Australian Electoral Commission
– Indigenous Electoral Participation Program
The AEC's Indigenous Electoral Participation Program (IEPP) was established as a part of the Governance and Leadership building block of the Australian Government's Closing the Gap Initiative in 2010. The rationale for the program has been built to encourage greater levels of Indigenous enrolment, voter turnout and formal voting so that all sides of the Australian political spectrum can be held to account for their performance in the area of Indigenous issues. In 2011 and 2012, the following programs contributed the success of increased Indigenous electoral participation: National Indigenous Youth Parliament, Louder than One Voice 50th Anniversary DVD and Calendar, Electoral Awareness Officer Program and Reconciliation Action Plan. The program has played a key role in increasing participation by Indigenous Australians in the electoral and democratic process through building relationships and trust and by creating a feeling of enthusiasm and empowerment through participation in the process.
Link Up (QLD) & Associate
Professor Norman Sheehan
Link Up (QLD) exists to enhance the lives of Aboriginal and Torres Strait Islander people by reuniting those who have experienced separation form their families and communities. Link Up (QLD) identified the need for a publication after conducting the Sustaining Art of Wellbeing (Sustaining Connections) project with resounding success. The publication Stolen Generations Education: Aboriginal Cultural Strengths and Social and Emotional Wellbeing is a unique tool for mediating, communicating and addressing the trans-generational effects of the past Government's policies and practice. It can be used by all sectors of the community, including primary and high school students and their educators. Dr Norman Sheehan, a Wiradjuri man born in Mudgee NSW, was brought up in a Catholic institution. Norm has taught in Aboriginal communities, TAFE and higher education in NSW, Tasmania and Queensland since 1979. He is currently Associate Professor at the Centre for Indigenous Knowledge and Design Anthropology (CIKADA) in the Faculty of Design at Swinburne University of Technology. The aim of the publication is to provide clear and challenging information and methods that help learners engage with Stolen Generations knowledge.
Mumgu-Dhal Tyama-Tiyt Program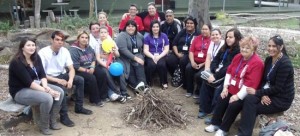 The Mumgu-Dhal Tyama-Tiyt Program is a Foundation course offered for Aboriginal and Torres Strait Islander people in Melbourne who want to re-engage in education whilst improving numeracy and literacy skills, whilst learning in a culturally safe environment. The Program consists of Certificate 1-3 providing students with a pathway to further education or in to the workforce. The course is nationally accredited and delivered through many TAFEs and Universities in Victoria. It began at the University of Victoria in 2010 with the students using their newly learned event planning skills to organise and host a successful Mabo Day event. Students also collaborated with Ilbijjeri Theatre Company to promote Uncle Jack vs The Crown with their marketing and communication skills. In 2011, the students organized a highly successful event, this time hosting an Aboriginal Health Day for the Melbourne community.
University of Melbourne –
Big Breaming, No Shame
The Murrup Barak Melbourne Institute for Indigenous Development was established in 2009 to increase the impact of the University of Melbourne's Indigenous programs and maximise the University's contribution to Indigenous development. In 2010, the Institute developed a press campaign to recruit Indigenous students to the University's culturally respectful and supportive BA and Commerce (Extended) undergraduate courses. The Bachelor of Arts (Extended) and the Bachelor of Commerce (Extended) seek to attract motivated and aspiring Indigenous students who have not obtained the results for direct entry into The University of Melbourne's Bachelor of Arts or Bachelor of Commerce. The Extended four-year Arts or Commerce degrees include a year of bridging subjects to ensure success. The 'Big Dreaming, No Shame' press campaign was the first of its kind to feature successful Indigenous University of Melbourne students as heroes and mentors, telling their stories in their own words, and using their own language. As such, they were respectful, aspirational and ultimately successful.
Napranum Parents and
Learning (PAL) Group
The Napranum Parents and Learning (PAL) Group from Queensland has been operating since 2004. The PAL Group helps parents prepare their children for school. It supports and empowers parents and family members to engage in their children's learning and assists the development of their children's early literacy and numeracy skills. When the Napranum PAL Group was created in 2004 as a not for profit company, it formalised the group of people committed to effecting change for Indigenous parents and children through the Parents and Learning Program. It also provided the means to enable the program to be shared with other Indigenous communities. PAL Programs are now successfully established in 16 Indigenous communities across Australia. The PAL Program is continuing to expand its reach to other remote communities in North Queensland (Seisia, Coen, Injinoo, Aurukun) and Western Australia (Mt Magnet) by the end of 2012.