Stolen – Link Up Queensland and the Aboriginal Centre for the Performing Arts (ACPA)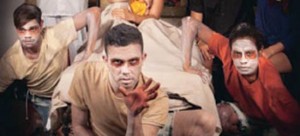 Stolen is a production written by Jane Harrison and directed by Leah Purcell, following five months of collaboration between the project partners Link Up (QLD) and the ACPA. The project involved research, sharing stories, the exploration of family histories, intensive production development and rehearsal, all leading to a five-day public season in the Cremorne Theatre. It's the first of a series of collaborations between two unique organisations that share opposite ends of the reconciliation process: Link-Up, supporting and promoting the healing of generations carrying the stories of the past; and ACPA, developing the next generation of young Aboriginal and Torres Strait Islander performing artists.
Heather Kemarre Shearer
Separated from her family at birth, Heather Kemarre Shearer was adopted into a non-Aboriginal family. Since 1978, Heather has been actively involved with Aboriginal child welfare groups and family link-up services. She became Secretary of the South Australian Aboriginal Child Care Agency (ACCA) in 1978, and was active in the establishment of Aboriginal foster care in that state. She was a Coordinator of the Alice Springs Aboriginal Child Care Agency, and Secretary of the Secretariat of National Aboriginal and Islander Child Care. An accomplished artist, Heather has designed posters for National Aboriginal and Islander Children's Day and the release of the Bringing Them Home report. Her work includes submissions to Parliament and the Inquiry into the South Australian Stolen Generations Reparations Tribunal Bill. She has also worked as a Senior Caseworker for the Central Australian Stolen Generations & Families Aboriginal Corporation. More recently, she has been appointed to the Healing Foundations' Stolen Generations Reference Committee.
AbSec
The Aboriginal Child, Family & Community Care State Secretariat (NSW) is an incorporated not-for-profit community organisation. The organisation is primarily funded by NSW Family and Community Services, and is recognised as the peak NSW Aboriginal body providing child protection and out-of home care (OOHC) policy advice to the government and non-government sector on issues affecting Aboriginal families involved in child protection and OOHC system. In 2012, AbSec is concentrating its work with the Stolen Generations to support the girls from Cootamundra Girls Home. AbSec is also developing a DVD recording the stories of the girls and also organising the 100 year celebration in August 2012. It is hoped the planned activities will help members of the Stolen Generations placed at the home and their families in the process of healing and working through unresolved issues.
Joanne Taylor
Joanne Taylor has worked at the Albury Wodonga Aboriginal Health Service as a Bringing Them Home Counsellor for over three years and during that time, has set up a support group for True Australian Aboriginal Survivors. The group meets every fortnight and have attended activities including a Family History Day, Native Title Community Workshop, Back to Country and Institutions for Survivors and their families. Additionally, Joanne has organised visits to record holding agencies in Melbourne, Sydney, Adelaide, Canberra, National Apology and Sorry Day events, and relevant support groups. Her biggest effort has been in helping to make a film about the stories of the Stolen Generations Survivors which is due for launch soon. Joanne gives her heart and soul to her work as a Bringing Them Home Counsellor and has a record of achievement for the Stolen Generations and her community of Albury Wodonga. Her support is helping many Stolen Generations members in her region through their healing journeys.
Christine Jacques-Doolan
Part of the Stolen Generations, Christine grew up on a farm near Balaklava, 92kms north of Adelaide – a far cry from her family in Apatula in remote central Australia. As a result of her experiences, Christine was drawn towards working with the Stolen Generations and became a case manager with Link Up. She also started a group, the Circle of Hope, for Aboriginal women of the Stolen Generations. At the Circle of Hope, Stolen Generations members were able to talk and share yarns, and heal. Christine has worked as a teacher and in community development. She then began to work in the health and wellbeing area and undertook a post graduate diploma in Social Sciences and Counselling Studies, and later a Masters in Social Sciences and Counselling Studies. She is currently working on a suicide prevention package which has been researched with Elders and the community. Christine is also a member of the South Australian branch of the National Stolen Generations Alliance and is working hard on community projects.