Gandangara HealthServices Limited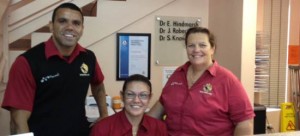 Gandangara Health Services Limited, a division of Gandangara Local Aboriginal Land Council in Sydney delivers culturally appropriate, responsive and inclusive services that contribute to closing the gap.
Through Gandangara Health Services, health practitioners work together to deliver comprehensive services to the Aboriginal community. The first main stream, the General Practice centre, is independent of Government funding and comprises senior GPs, a Mental Health Nurse Practitioner, Registered Nurses, a Psychologist, Speech Pathologist, Podiatrist and a team of trained Aboriginal Health Workers. The focus for optimal Aboriginal health is encouraging annual health assessments, and following through all recommendations made by the GPs – 424 Aboriginal health assessments have been completed since opening the centre in July 2010, with the majority of clients also having a Chronic Care, Enhanced Primary Care Plan and Allied Health Care Plan initiated. A further 513 Aboriginal health assessments have been completed through the Marumali – Aboriginal Brokerage Service. To date, the centre has 4,500 clients on their database covering a catchment area from Parramatta through to Moss Vale.
Another focus of Gandangara is its Early Intervention Project which is delivered through engagement with the local Aboriginal community to promote the early identification of disability in Aboriginal childhood development, including enhancing the capacity to build resilience and better cope with changing circumstances.
Aboriginal Oral Health Clinic
The Aboriginal Oral Health (AOH) Project is a Close the Gap initiative under the National Partnership Agreement with the Australian Government. It was developed in partnership with the NSW Centre for Oral Health Strategy, the NSW Centre for Aboriginal Health, and the Aboriginal Health and Medical Research Council of NSW to provide clinical oral health services to metropolitan, rural and remote Aboriginal communities.
AOH involves the establishment of a Hub (Sydney Dental Hospital) and the development of Spokes (outreach clinics) where clinical services are provided to Aboriginal communities in rural NSW. In addition to an ongoing dedicated Aboriginal Oral Health Clinic at the Sydney Dental Hospital, time limited rural clinical rotations are run in partnership with local Aboriginal Medical Services and Aboriginal Community Controlled Health Services.
The AOH has worked towards successfully overcoming the barriers Aboriginal people face in accessing services staffed by appropriately skilled and qualified oral health professionals in rural and remote areas. Grassroots initiatives such as the Aboriginal Oral Health Mouth Guard have also been developed and implemented by staff to increase awareness and the importance of wearing mouth guards to help improve oral health. This initiative is delivered at the community level through introducing children to the importance of good oral health and hygiene through sport.
Itha Mari: Aboriginal Health and Healing Group
Itha Mari: Aboriginal Health and Healing Group was established in 2003 with the goal of improving the access of Aboriginal clients to the Kirketon Road Centre (KRC) by providing a culturally specific program. Itha Mari translates to 'this way in the right direction' in the Barkindji language. KRC is a primary health care facility located in Kings Cross delivering services in the prevention, treatment and care of HIV/AIDS and other transmissible infections.
Itha Mari: Aboriginal Health and Healing Group is based on the principles of a whole-of-life view of health, Aboriginal self-determination, commitment to working in partnerships, building cultural understandings, and recognition of and respect for trauma and loss. Itha Mari: Aboriginal Health and Healing Group's content is developed in consultation with the Koori clients who utilise the program. Clients have direct input into the program that meets their individual health priorities. The sustainability of this program is demonstrated by the development and implementation of the program by an Aboriginal Health Education Officer; access to a multidisciplinary service offering a range of integrated health and social welfare services to which group participants can be referred; commitment to improving access and service delivery to Aboriginal people; and working in partnership with the Aboriginal community. Itha Mari acts as a model of best practice to other mainstream health services.
Boodjarra Yorgas Family
Care Program
Boodjarra Yorgas Family Care Program has provided care to around 350 women having Aboriginal babies since its launch in 2007. The service is known and respected throughout Western Australia as providing quality care with integrity and respect. The majority of referrals come from families who have heard about or used the service or have had care through it. In 2011, Boodjarra Yorgas Antenatal Clinic were runners up in the Public Sector Commission, Premiers Awards 2011 for Improving Indigenous Outcomes.
Boodjarra Yorgas, which is a Noongar name meaning Pregnant Women, strives to improve the quality of pregnancy care for Aboriginal families using local maternity services. The service was established as an Antenatal Clinic in 2007, and more recently expanded to include a Family Care Program. In its first four years, the Clinic has assisted many Aboriginal babies to a safe arrival. Some families have had as many as five pregnancies cared for through the clinic. The Clinic's primary goal is to empower Aboriginal women through their pregnancy and birth, and support them in making healthy choices. Once the child is born, help and support continues through supporting and advising the new mother in a culturally appropriate manner. Support might also include practical help such as finding transport to and from the clinic, or linking into other local services and agencies. An extremely important part of the Boodjarra Yorgas ethos is to deliver assistance from a cultural perspective of pregnancy and antenatal care, approaching it as a natural process rather than a medical programme.
Prior to the clinic's establishment, there was no other service of its kind in the Perth metropolitan area. Since its inception, there has been an improvement in birth outcomes, as well as a positive change in the relationship between health care providers and Aboriginal families choosing to have their babies at Perth's Armadale Hospital. The Clinic is delivered from Armadale Hospital Antenatal Clinic.
Yamba's Roadshow
Alice Springs based Yamba's Roadshow was a finalist in the 2011 Deadly Awards. Yamba the Honeyant and the Yamba Roadshow crew have been travelling throughout the Northern Territory in 2011, and now to parts of Queensland, spreading healthy living messages to preschoolers in 2012.
The half-hour stage musical is so popular it has even been made into a Roadshow musical CD to give to preschoolers, schools and health clinics. 15 Healthy Living animations have been produced featuring Yamba in order to spread healthy messages via Community Service Announcements (CSAs) on Imparja Television and packages for the immensely popular preschool television program, Yamba's Playtime. Healthy Living posters featuring these messages and Yamba have also been produced to give to remote clinics. Children are sure to recognise Yamba on the posters and take notice of the messages he presents.
Roadshow Updates have also been broadcast on Imparja Television about the roadshow tours and the healthy living messages that have been presented to the children. Healthy Living posters featuring Yamba the Honeyant are also distributed to remote health clinics of the Northern Territory. The posters include information and messages on brushing teeth, blowing noses, visiting the doctor and getting plenty of sleep. The Yamba Roadshow and the Yamba the Honeyant concept are an innovative and proven way to teach children about ear, nose and eye health.