KAROLINE TRAILL
Karoline Traill is an Aboriginal Aged Care and Community Worker with the Number 34 Aboriginal Health Service & Six Rivers Aboriginal Corporation. She co-ordinates and works with Aboriginal Elders in the Mersey Leven Community, supporting and assisting Elders in the comfort of their own homes.
Karoline coordinates the Community Aged Care Package (CACP) Program which delivers quality care for older Aboriginal Australians. CACP provides appropriate, flexible and coordinated care and assistance to clients with complex care needs. She also delivers the Circle of Friends Program – developed for the older Aboriginal Community to enhance healthy ageing and positive life styles, help prevent social isolation and promote healthy eating.
JOHN COROWA
John Corowa is the Regional Manager for the Indigenous Health Tackling Smoking & Healthy Lifestyles and Closing the Gap Programs, and is based at GP Links in the Wide Bay Region of Queensland. His work in the community has been outstanding in the 14 months he has been in the role.
Prior to joining the Indigenous Health Tackling Smoking & Healthy Lifestyles Program, John worked in Queensland Health for 10 years beginning his career as a Hospital Liaison Officer at Logan Hospital.
Through his role, John and his staff have organised innovative community health promotions and activities to tackle smoking and promote healthy lifestyle, including Cultural Healing Days across the region, the Deadly Choices Touch Carnival, Women's Health Information Nights and the Murri Factor to showcase new talent in music. His passion and energy in Aboriginal Health has been evident from his hard work in his personal career and his commitment to providing health services to the community.
CRAIG BLOXSOME
Craig Bloxsome has a long history of supporting his community. Since 1992, he has committed himself to community work and improving the lives of Indigenous people by helping to steer young people away from potential bad influences and towards positive activities.
Craig worked for many years at Nowra on the NSW South Coast, where he ran a surf-lifesaving program in conjunction with the local surfing clubs.
Working as a project officer in the Children and Family Services Section of the South Coast Medical Service Aboriginal Corporation, Craig was a strong contributor to the health and wellbeing of Shoalhaven's Indigenous people. He facilitated community initiatives and projects for young Indigenous adults and advised and advocated for families.
Craig moved to Tasmania in January 2011 to work for Anglicare as the Manager of a Therapeutic Residential Care (TRC) Program in Launceston. The program manages 13 Indigenous kids, among others, across five residential places. Long-term, Craig would like to continue his work promoting health and wellbeing among Aboriginal people.
DALE WRIGHT-DENNIS
Dale Wright-Dennis is a 34 year-old Kamilaroi man from Walgett NSW, and an Aboriginal Health Worker with the Illawarra Aboriginal Medical Service.
Prior to becoming an Aboriginal Health Worker, Dale was involved in drugs and alcohol but attending a local men's group gave him the incentive to turn his life around. Through participating in the group, he realised people were listening to him and connecting with him. From this came a strong urge and desire to help and give back to his people.
He came up with the concept of Tour Da Country, where he and his team of cyclists, set out to cycle a 784km trip, beginning on 28 May from Wollongong and arriving in Walgett on June 8, 2012.
Along the way Dale and the team spread the word about reconciliation, health and cycling. They visited the Redfern Aboriginal Medical Service, the Shed in Emerton, Bathurst Land Council and Orange, Dubbo and Coonamble Aboriginal Medical Services. Through combining his own life's experience with his work as an Aboriginal Health Worker, Dale has a simple and heartfelt message on the importance of believing in yourself and working together.
BRIAN DOYLE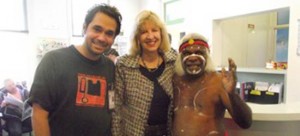 Brian Doyle is a proud Bardi man from the Djarindjin community of the West Kimberley region of far north Western Australia.
His traditional name is Barnagood. He has worked tirelessly in the interests of Aboriginal communities since he first began working as an Aboriginal health worker in the Djarindjin community in 2000. He continued this work in Perth before switching his career interests to focus on drug and alcohol work with his people in 2002.
In early 2003, Brian moved to the east coast of Australia, working in Redfern/Waterloo as an outreach D&A worker before joining the Kirketon Road Centre (KRC) in 2006. During his time with KRC, Brian strengthened his knowledge, skills and expertise in his role as Aboriginal Health Projects Officer, working effectively with Aboriginal and non-Aboriginal clients. He also facilitates KRC's Itha Mari Aboriginal Health and Healing Group, which meets weekly and supports Aboriginal clients to address their health issues.
With family ties in both remote and urban Western Australia, and now working in Sydney, Brian has a good understanding of the issues that affect his people nationwide. In his role at KRC, he works closely with other clinical staff to ensure that culturally respectful practices and protocols have been developed for the safety of Aboriginal clients accessing the service.
He is skilled at interventions with all clients of the service, including youth. Brian is a qualified Aboriginal Health Worker graduating from the Marr Mooditj Foundation with a Certificate IV in Aboriginal Primary Health Care Work. At every level (and over the last 11 years) Brian has enjoyed working with young people and Elders, and everyone in the community in between.