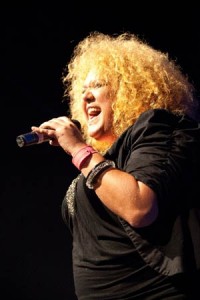 The 2012 Deadlys® will be hosted by two well-known stars of stage and screen, Luke Carroll and Casey Donovan.
Both are experienced Deadlys hosts with Casey most recently hosting the show in 2011 and Luke in 2010. And both are past winners of Deadly awards in the acting and singing categories.
Luke is a 2009 Deadly Male Actor of the Year and hosted of the Deadlys from 2007 to 2010. He is well known for his acting roles and was nominated for his role playing Eddie in the Richard Frankland film, Stone Bros in 2010.
In 2011, he entered the world of children's television when he was announced as a host of ABC TV's long running kids show, Playschool. He's also been busy playing the lead in ABC's new comedy series Woollo 2011, which was released in June this year. His other screen credits include The Tender Hook and Children of the Revolution, and the television series Home and Away and The Alice.
Casey shot to national stardom in 2004 as a 16 year old winning Australian Idol. That year she also accepted her first Deadly Award for Most Promising New Talent in Music and has maintained a close association with the Deadlys ever since, bringing her powerhouse vocals to the Opera House centrestage with her spine-tingling performances.
Her most recent role includes playing Mama Cass in the hit stage production Flowerchildren.
Executive Producer of the Deadlys Gavin Jones describes the 2012 hosts as young, exciting and talented.
"I know they'll do a fantastic job. Both are natural comedians and experienced in live shows, and the television and film screens. They're also good role models for Aboriginal and Torres Strait Islander people, and are well known across Australian audiences," he says.
"They will be perfect anchors for what is shaping up to be a memorable Deadlys show at the Opera House on 25 September."
Deadly Award finalists have been announced and voting in Australia's largest Indigenous awards night is now open at www.vibe.com.au. Strong finalists across all award categories have ensured the Deadlys will be a night to be remembered.
Tickets to the Deadlys are on sale through the Opera House booking office (02) 9250 7777 or email [email protected]
The Deadly Awards will be broadcast on SBS One on 30 September 2012. Vibe Australia produces the Deadlys awards, Vibe Alive, Vibe 3on3, InVibe, Deadly Vibe, Deadly Sounds and Deadly TV. For more information about products: www.vibe.com.au