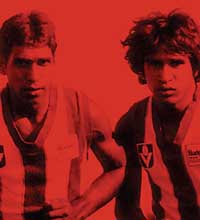 Touring nationally until 21 September 2011, the Deckchair Theatre's production of Krakouer! takes an honest, entertaining look at the legend of AFL superstars, the Krakouer brothers.
Growing up on farming land in Mt Barker, Western Australia in the early 1970s, Jim and Phil Krakouer made local headlines in their early teens. The pair developed a fast, fluid style of play that many players today would love to reproduce. In front of goal they always seemed to know where the other was, and it wasn't until very late in their careers that necessity forced them to play for opposing teams, a sad moment for the inseparable pair.
Signed by Perth's famously blue-blooded Claremont football team, the Krakouers blew opposing team defences apart with the skill and mastery of the game, and lead Claremont to their first Grand Final win in decades. Successful seasons in the VFL soon followed and later the AFL.
Despite their incredible success, the brothers faced personal challenges such as gambling addiction, prison time and racial vilification both on and off the field. These moments are portrayed openly and without judgement. By the end of the performance the audience see the true scale of their achievement.
As fast as a Krakouer handball and always quick with a joke, the play tackles its subject matter with sensitivity and humour – it's comprehensive without dwelling anywhere too long.
Spliced into the play is some sentimental old footage of the Krakouers at their best that's sure to get AFL fans cheering and hooting along.
For more info check out the Deckchair Theatre or the Seymour Centre websites.