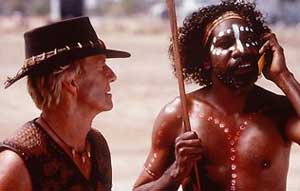 One of Australia's best-known Indigenous actors, David Ngoombujarra, whose films included Australia and Rabbit-Proof Fence, has passed away in Fremantle, Western Australia.
Ngoombujarra, 44, won Australian Film Institute Awards for his performances in the films Blackfellas and Black and White as well as for his performance in SBS legal drama The Circuit.
He was born in Meekatharra in 1967 before being raised by a white family in Perth as David Bernard Starr.
After busking in Adelaide, Melbourne and Sydney in the 1980s he was given bit parts in the films Breaking Loose and Young Einstein.
But he shot to national attention with his performance as Pretty Boy Floyd in the 1993 feature film Blackfellas.
He also appeared in feature films Rabbit-Proof Fence and Australia, with director Baz Luhrmann speaking of his "extraordinary spirit, life force and creativity" during the shooting of the film.
His other films included Ned Kelly, Crocodile Dundee in Los Angeles and Kangaroo Jack. His television credits include Heartland (ABC), Janus, Correlli, Harry's War, The Games, The Potato Factory, Home and Away, Roll, Parallax, and his final screen role in The Circuit in 2010.
Online tributes sprouted yesterday. Among them, his co-star on Australia Hugh Jackman, who tweeted: "An extraordinary man, actor and friend. His laugh, warmth and humanity will live on with all who knew him."
Police are waiting for a toxicology report to determine the cause of death, but say it was not suspicious.