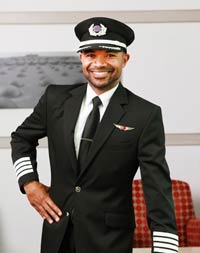 Kali Bellear is flying high and he speaks with InVibe Magazine about how he came to be a commercial Pilot
My name is…
Kali Bellear.
I'm from…
well, my father's family is originally from Stradbroke Island and the North Coast of New South Wales.
I live in…
Sydney, NSW. I was born and educated in Sydney, where I still live with my family.
My job is…
I'm a commercial pilot. I am employed by Virgin Australia Airlines. I am a Captain and fly the Boeing 737 passenger aircraft.
I have been in this job for…
years. I have been flying since I left school. My training took two years to get a commercial pilot's licence and a licence to teach other people to fly. I then flew for two years in the Northern Territory, northern South Australia and Western Australia based in Alice Springs, flying for Ngurratjuta Air, Pitjantjatjara-Yankunytjatjara Air and Ngaanyatjarra Air. This was to service remote Aboriginal communities, taking people home from hospital, bringing them in for medical treatment and generally servicing these communities.
I then flew with Hazelton Airlines until I was appointed a First Officer with Virgin Australia Airlines, eight years ago.
I got my job by…
studying really hard at school and TAFE and working hard to get my Pilot's Licence.
I chose this career because…
I really love flying. My job is the best job in the world.
In a typical day at my job…
I work to a roster and usually fly about 71 flight hours each 28 days. I fly all over Australia and to Indonesia and Thailand.
For lunch I usually have…
whatever crew meals have been loaded on the aeroplane. These normally include sandwiches, fruit, nuts and water.
One thing I was pretty happy with today was…
the weather and the crew I flew with.
The people I work with are…
some of the most professional and happy people I have worked with, especially the Koori flight attendants.
The personal qualities you need to do my job include… a high level of manipulative skills coupled with a sound technical knowledge, and the ability to lead and communicate effectively with your crew. Basically, the job of an airline Captain can be summed up as an in-flight CEO.
Looking to the future I will…
definitely continue to fly until I retire, happy that I have fulfilled a successful airline career and achieved my goals. I will balance this with being the best husband I can be to my wife Niki and the best parent possible to my three kids, Tanna, Nia and Tjara.