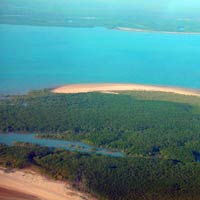 Police and local Indigenous children on Melville Island are finding common ground in a love of fishing, with police saying it is also a good way to build trust in the community.
AFP members deployed to 'Operation Pleach' in the Northern Territory have taken part in the fourth 'Off the Hook' fishing event last week.
Held in the town of Pirlangimpi on Melville Island, 80km North of Darwin in the Timor Sea, 'Off the Hook' is a community engagement initiative devised by police in 2009 to build relationships between them and local Indigenous communities through a shared love of fishing.
The initiative provides Indigenous children with non-competitive, non-physical recreation, and is an opportunity for them to engage with police in a friendly and informal atmosphere.
Andy Wharton from Operation Pleach says 'Off The Hook' is all about the local community and the police doing something together.
"In remote communities like this, relationships between the community and the police are absolutely essential," he says.
"Strengthening relationships and building trust with the community ultimately leads to more confidence in the police.
"It's about doing something together, something that we all enjoy and that's fishing."
Mr Wharton says in future they would like to extend the program to Queensland and Western Australia.
"Bascially anywhere where you have remote Indigenous communities, water, fish, kids and coppers – this could work."
Local Elder Gidgeon Pangiraminni says the local community is "grateful police are doing this stuff and the kids are loving it."
'Off The Hook' is a joint Northern Territory Police and AFP initiative.
The program has attracted around 50 local children, with up to 600 children in several other communities around the Northern Territory also participating at the same time.