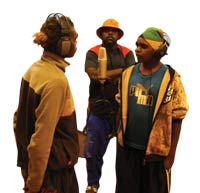 Located on the tri-state border point of South Australia, West Australia and the Northern Territory, Wingellina is one of several communities in the remote regions of the Ngaanyatjarra, or Great Western Desert.
Wingellina is also the home of NGmedia, a recording company which has released a fourth compilation album, Turlku 4, of songs from Ngaanyatjarra bands. The album features 25 tracks of rock, country, reggae and Aboriginal music from numerous bands and solo artists stretching across a vast 660km radius of the Ngaanyatjarra.
The album has already gained some international attention and featured in the World Music Magazine Songlines and on ABC's Radio National and Triple J. Songwriter and music producer John Gordon spoke to Jailbreak about the album's new take on contemporary central desert music.
Jailbreak: Tell us more about the community of Wingallina and the new compilation.
John Gordon: Wingallina is a small community of about 250 people at the point where the Northern Territory and South Australia meet on the Western Australian border, and where NG media runs the radio station and a brand new recording studio. I was asked to introduce Garage Land in 2006 which was a revolution really and gave the musician's autonomy to do exactly what they wanted. So it wasn't a big step, but rather a natural progression to teach Garage Land. The Turlku 4 album is the culmination of that development phase in music from several local bands of the vast Ngaanyatjarra. 'Turlku' is an old Aboriginal word meaning song or dance.
JB: What role does music play in the lives of people from the central desert?
JG: Music is an important part of life of Ngaanyatjarra communities. There's always a band playing at end of every footy game. There're so many people who can play and communities get together
to jam. The album has a huge number of tracks (25 ) from several of the local bands, including the Warakurna, Alunytjuru and the Blackstone bands. The genre's a combination of rock, reggae and country. They love hip hop too, but the reggae, rock beat is the bench mark and something that seems to come naturally. There a few other tracks though, rock and roll, ballads and a bit of gospel.
JB: What was it like working with the different bands in putting this album together?
JG: I've always thought Sunlight Band were great, they rock hard and let me tell you they're an experience to behold. To give you some idea, one day we'd got together the line-up for recording, there were bands from all over. Sunlight Band turned up late, just as we were finishing. They'd been driving all night to get there. Our sound engineer was exhausted but we persuaded him to set up again and the minute they started playing it was euphoric! Here they were with limited gear and had been up all night but producing some beautiful sounds.
JB: How often do the bands get to perofrm live, and are their any plans on visiting major cities?
JG: The bands tour around to other local Ngaanyatjarra communities and the Bushman's Bash in Alice Springs is a good platform to play to a big audience, but Sydney and Melbourne's a long way, and there's less opportunity to see them live – but the big smoke's not far off though.
JB: What do you feel is particualrly unique about this style of desert music that has become so popular?
JG: Each community has its own sense of music sensibility and a unique style of rhythm. The music has an evocative and fresh sound which I think comes from the Ngaanyatjarra lyrics. The songwriters somehow make their languages' long words fit, there's great rhythm, an incredible beat and a strong sense of culture. The meaning's not necessary, you could never understand Mick Jagger's lyrics. The CD's cover has the translations of all the songs.
JB: Are you pleased with the reception to the album?
JG: I think Turlku 4 is their definitive album. It's had good reviews and it's been gaining it's own momentum. Mainstream media still has something to answer for in terms of awareness of such special music. Germany and the UK have shown an interest already in the Ngaanyatjarra language. I think Sunlight Band would rock in Berlin.