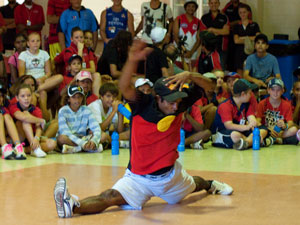 Around 400 young people took part in the first ever National Indigenous 3on3 Basketball and Hip Hop Challenge – the Vibe 3on3® held at Tennant Creek.
Students attended songwriting workshops in the week leading up to the event with Northern Territory singer/songwriter Shellie Morris, later performing their compositions at the Vibe 3on3® on Friday in front of hundreds of students.
The Vibe 3on3® Friday event featured a 3on3 basketball tournament, rapping and break dancing lessons, art workshops, a dance competition and a health & careers expo, all accompanied by a backing track of the latest RnB, hip hop and Indigenous music.
The Vibe 3on3®, held on Warumungu land, was a free event for Indigenous and non-Indigenous students that encouraged sportsmanship and leadership, taught new skills and helped build self-esteem, as well as promoting reconciliation at a grassroots level.
After the Welcome to Country by Francine McCarthy, local students from the group "Culture Crew from YDU" performed at the opening ceremony. Local performances were a highlight of the event, including a rap from "TCG".
Indigenous singer songwriter Nathan Foley, Last Kinection's Naomi Wenitong and hip hop great Brothablack were among the role models on the day, joining students to entertain and inspire, along with local artists and performers from the local community.
Local dignitaries attending the event included Barkly Shire Council Deputy Shire President Tony Boulter and Julalikari Aboriginal Corporation President Gina Smith.
The event aimed to give students an opportunity to learn more about a healthy lifestyle and their future career.
Executive producer Gavin Jones declared the event a huge success and thanked the hard working local committee.
"We couldn't have staged such a successful event without the help of a truly wonderful local committee. They did everything possible to make the event a memorable one for the kids of Tennant Creek and surrounding regions," he says.
"I'd also like to thank our local sponsors Barkly Shire Council and St John's Ambulance Service. This is the first time we've been to Tennant Creek and, hopefully, we can bring the Vibe 3on3® back again."
The Vibe 3on3® aims to promote healthy lifestyles, strengthen communities and boost self-esteem. The Vibe 3on3® is also an excellent opportunity for health and education services and related organisations to introduce themselves to the wider community.
The Vibe 3on3® would not be possible without our principle sponsor the Department of Health and Ageing through the Office of Aboriginal and Torres Strait Islander Health (OATSIH). Proudly supported by the Australian Government Closing the Gap in the Northern Territory, and Vibe Australia.
We also thank our supporters the Koori Mail, Deadly Sounds and Deadly Vibe.