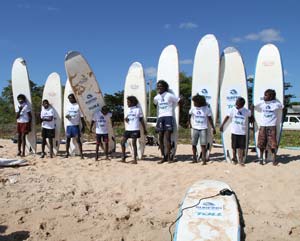 The folks at Yirrkala in the Northern Territory have just completed three action-packed days of surfing lessons, with six of them completing a Surfing Australia Level 1 Surf Instructor course.
Jamo Borthwick and Carly Mcrae, two Surfing Australia coaches from the Gold Coast, delivered the program to more than 50 kids with the help of Hamish Simpson who's based in Yirrkala.
The program was coordinated and delivered by Surfing Australia with the support of the Australian Sports Commission and Toll Marine Logistics who transported the surfboards and other equipment to Yirrkala.
"On the first morning it was pretty cold, the water felt fresh and there was a strong southerly wind. We honestly didn't know if anyone would show up", Borthwick said.
"But the Yirrkala kids are pretty tough, we found a better protected venue and by the end of the day all of them were standing up on surfboards like they'd been doing it forever. An amazing time was had by all, and the kids just kept on going back for one more wave!"
The three-day surfing program is the first of its kind to be run in Arnhem Land and Surfing Australia is keen to continue to support the program in Yirrkala and even extend it out to other Indigenous communities.
"We're looking around at the various funding options available, and hopefully someone can give us the support required to teach more Indigenous kids just how much fun surfing is and what a good and healthy a lifestyle it can promote. It would be fantastic to see the kids as well as the whole community enjoying surfing regularly for years to come."