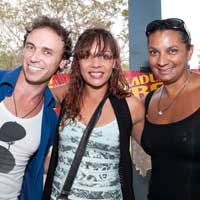 Young people from across the Darwin region descended on the Darwin Basketball Stadium on Friday for the third Darwin/Palmerston National Indigenous 3on3 Basketball and Hip Hop Challenge – the Vibe 3on3.
It was a day for the young people of the Northern Territory to shine with the local organising committee describing the event as 'by far the best with more to come'. The event was launched in the Bagot community and featured performances by the Vibe 3on3 role models.
In the week leading up to the event, Northern Territory singer/songwriter Shellie Morris held songwriting workshops in local schools, with young people performing their songs on the day. Executive producer Gavin Jones says the local performances were a highlight of the event.
"They showed great local talent, creativity in their songs and great confidence to perform. I was really proud of them," he says.
"Our role models were also awesome – dancer Medika Thorpe, rapper Dizzy Doolan, dual-international Australian representative Bo De La Cruz, and Milika Blackie-Smith was amazing. We also got a lovely surprise with former Olympic gold medallist Nova Peris attending on the day."
Local Culture workshops were hosted by NT Dance Company founder Gary Lange and broadcaster, television host and cultural communicator Rhoda Roberts.
Dignitaries attending the Vibe 3on3 included Darwin City Council Lord Mayor Graeme Sawyer; Member for Soloman Natasha Griggs; Mr Ross Bohlin MLA Member for Drysdale & Shadow Minister for Sport and Recreation; Senator Nigel Scuillon Shadow Minister for Indigenous Affairs; Peter Chandler MLA Member for Brennan; and Alderman Garry Lambert from Darwin City Council.
Local sponsors were Danila Dilba Health Service, Mission Australia, Darwin Basketball Association, Top End Aboriginal Bush Broadcasting Association, United Voice Union for Aboriginal Health, Darwin Bakery and Mr Terry Mills MLA & Leader of the Opposition.
The Vibe 3on3 featured a 3on3 basketball tournament, rapping and break dancing lessons, art workshops, a dance competition and a health & careers expo, all accompanied by a backing track of the latest RnB, hip hop and Indigenous music.
The event encouraged sportsmanship and leadership, gave young people the opportunity to learn new skills and build self-esteem, as well as promoting reconciliation at a grassroots level.
The Vibe 3on3 would not have been possible without our principle sponsor the Department of Health and Ageing through the Office of Aboriginal and Torres Strait Islander Health (OATSIH). Proudly supported by the Australian Government Closing the Gap in the Northern Territory, and Vibe Australia.
We also thank our supporters the Koori Mail, Deadly Sounds and Deadly Vibe.