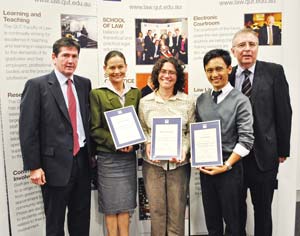 Three high achieving Queensland University of Technology (QUT) Indigenous law students have received scholarships to help ease the costs of study.
The $5,000 scholarships come from the McCullough Robertson Support Fund for Indigenous Law Students which provides ongoing financial assistance to QUT students to encourage high-achieving Indigenous students into private practice.
Professor Larissa Behrendt, professor of law and director of research at the Jumbunna Indigenous House of Learning at the University of Technology, Sydney will present the scholarships after her public address, Indigenous people and the Australian Constitution – a matter of justice, to mark Law Week.
The students are: Michelle Rabbidge who is in her first year of the Bachelor of Laws external program; Simone Sharp and Ivan Ingram who are third-year students.
Michelle Rabbidge, who lives in Adelaide having spent most of her life in Brisbane, is the sole parent of a seven-year old and works part-time for a social enterprise and volunteers with another.
"I embarked on a law degree to find a way to participate in society that was meaningful and stimulating," she said.
"The scholarship will enable me to reduce my working hours, provide more childcare options for my son and generally manage the juggling act that is simultaneously parenting, working and studying," she says.
Third year student Ivan Ingram's contribution to QUT has also been recognised this year with a nomination in the QUT Student Leadership Awards to be announced in June.