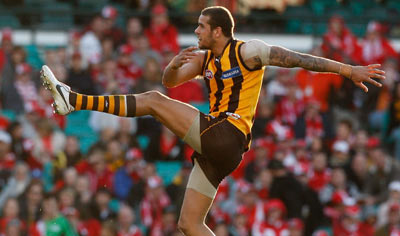 Minister for Indigenous Employment and Economic Development and Minister for Sport Mark Arbib today announced the Australian Government's Learn. Earn. Legend! program will partner with the AFL in 2011.
The funding will support the AFL Indigenous All Stars team participating in the AFLPA Indigenous Camp from January 29 to February 5 and will encourage young Indigenous Australians to stay in school or training and become a legend in their community.
Speaking at the National Centre of Indigenous Excellence today, Senator Arbib said the Indigenous All Stars team would be involved in education and career sessions, community visits and will culminate in a game against Richmond in Darwin on February 5.
The AFL will also assist in hosting four Indigenous career and employment expos during the 2011 Toyota AFL Premiership Season.
"Learn. Earn. Legend! is an extremely important program and the Gillard Government is proud of the support it receives from the AFL in encouraging Indigenous education and employment," Senator Arbib said.
"We know the best thing all kids can do is get a good education. We know that the more education they have, whether that be finishing year 12, completing a TAFE qualification, an apprenticeship or a tertiary qualification, the more likely they are to get a good job."
Senator Arbib said he was also proud to announce the continuation of Sydney Swans co-captain Adam Goodes as the Learn. Earn. Legend! Ambassador for 2011 and thanked him for his excellent work with young Indigenous people.
"Adam is a fantastic player and brilliant role model for young Indigenous Australians. He has proven that through hard work and determination you can become a legend in your community," Senator Arbib said.
Adam Goodes said he was very proud to continue his involvement with the Learn. Earn. Legend! program in 2011.
"This is a great program providing Indigenous kids with fantastic opportunities. I am honoured to be involved and encourage young Indigenous Australians to achieve their dreams," Goodes said.
AFL National Community Engagement Manager Jason Mifsud said 87,000 Indigenous people now play Australian football, so the Learn. Earn. Legend! program is a valuable and relevant initiative which the AFL is proud to support.
"The AFL is committed to developing its young indigenous players on the field and importantly, off the field.
"The AFL Indigenous Program places great emphasis on education and cultural development and encourages strong community links, so the objectives of the AFL and Learn. Earn. Legend! are very much aligned.
"We're looking forward to collaborating with the Australian Government to deliver a powerful message which will have positive outcomes for young indigenous people and their communities," said Mr. Mifsud.
The AFL Indigenous All Stars match against Richmond will be played at TIO Stadium in Darwin on February 5 and will be broadcast nationally on ABC1.