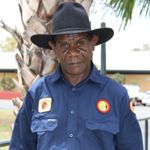 Indigenous rangers are on the frontline of environmental protection in some of our most remote regions.
There is a school of thought that says leaders are made, not born, but David Claudie believes birthright based on land connection is central to Indigenous leadership.
"My leadership comes from my great grandfather," says the Kaanju man from the central inland area of the Cape York peninsula. "We have to take care of our clan groups."
Traditional owner David is the Chairman of Chuulangun Aboriginal Corporation and part of a national environmental rescue force in which Indigenous people play a leading role.
Nearly 200,000 of the 840,000 hectares of Kaanju homelands is a declared Indigenous Protected Areas, one of 25 IPA's across Australia. The Federal Government has plans to develop up to 35 new IPA's nationally.
The Indigenous rangers who work on land care projects on these IPA's "are on the environmental frontline" according to Federal Environment Minister Peter Garrett.
"A huge proportion of Australia's habitat is on Indigenous-owned land and much of it is incredibly remote, so we support the dedication and skills of Indigenous people through environment programs like Working on Country to protect and conserve the lands," he says.
There are 44 Indigenous rangers are working on habitat programs as part of a $27 million national program to boost the fight to save our biodiversity on Indigenous Protected Areas across the country.
The Kaanju people began moving back permanently to their homelands from the late 1980's, after decades of living in towns, former missions and government settlements. The community is based at Chuula or Chuulangun (Frilled-Neck Lizard Story), one of the Kaanju clan estates on the upper reaches of the Wenlock River.
Chuulangun is cut off by road for up to six months during the wet season from November to May but there is a core, permanent community committed to homelands development. Starting from a tent city, there are now sheds for accommodation, kitchens with gas cookers, septic toilets and showers with fresh water pumped from a nearby lagoon.
"Our homelands feature enormous biodiversity," David says. "We have savannas, rainforests both tropical and subtropical, riparian forests, riverene, vine thickets, escarpment and scrub bushland. We are rich in plant, animal and mineral resources.
"Today, we face many land management problems not of our own making, and we are determined and obligated as Traditional Owners to rehabilitate our story places and restore the land to its sustainable state.
"If our homelands are not managed properly and in accordance with Kaanju law and custom, the land and people will suffer. The deterioration of our homelands was evident – severe land degradation and erosion, weed and feral animal infestation, a lack of proper fire management, and the desecration of significant cultural sites due to unregulated public access.
"We have developed protocols that set out rules and appropriate behavior for visitors to our homelands that address these problems."
David and a team of Indigenous rangers work on environmental projects such as erosion control, fire management and re vegetation to maintain and revive the homelands. They are also looking to generate income from their traditional knowledge of the ecology of the homelands, in particular, knowledge of medicinal plant products, including the oils and resins derived from the leaves, bark, fruit, seeds and roots of plants.
"We have found a lot of companies are interested in our medicines for potential anti-virus and anti bacterial uses," David says.
Scientific investigation is underway in partnership with the University of South Australia and the community will share in any benefits.
"We are still testing and then we will put it into a feasibility plan to manufacture, distribute and sell. It will be a model for Indigenous and Western scientific researchers investigating traditional plant medicines."