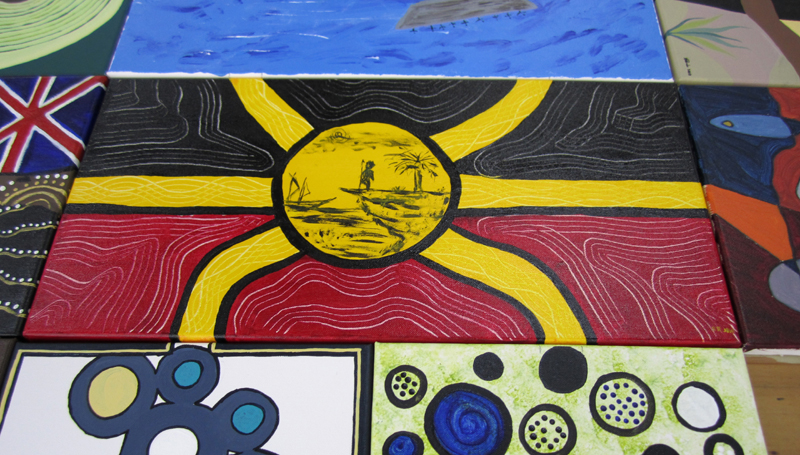 Members of the Stolen Generations are finding a new way to heal the hurt of the past thanks to a new art program designed by Link Up Queensland's Director, Dr Noel Sheehan. Noel believes that art is not only a great way to reconnect with culture, but that it also has the ability to help people make sense of the past and come together as a community.
"I've been drawing and doing art all my life," says Noel. "The different times when I was in institutional settings, I found art to be something I could rely on. It takes you out of yourself and helps you to centre. It gives you an internal life where you can sit and think about your life. It's also a free space where you can share and if you do an image and someone appreciates that – well that's a big event. When you connect art works together and people see the depth of that connection, that's a pretty positive life affirming process."
The new art program is being run for members of the Stolen Generations throughout Queensland and Noel says art is something that everyone can participate in – even if you've never painted or drawn before.
"There are no requirements or boundaries other than sharing and painting. It's especially helpful when people have been isolated, as they can build relationships around it. The projects are for members of the Stolen Generation and their families and communities because those issues spread throughout communities.
"The main thrust of the program is about cultural connection and how cultural connection and cultural strength are the basis of well being in any community. Research supports the ideas that when Indigenous groups have been violated, cultural strength is the primary pathway to well being. We're looking at very simple programs that bring people together and get them talking and sharing and seeing what happens when they share the images they've created."
The programs are focused on the healing that occurs rather than the artwork however, Noel says it is amazing what deadly artworks can be created when everyone's work is put side by side.
"A lot of the images might not look all that good by themselves but when they come together they are powerful works and that demonstrates the power of connecting. The program gets people out and communicating about identity in an Aboriginal controlled community context. They are doing things that make them feel good about themselves and their culture and we have a very considerate and respectful approach."
Dr Noel, who is also professor of Indigenous Knowledge at Swinburne University, trained the Indigenous artists who run the workshops and says he is hoping some of the participants may also want to continue on with their artwork.
"I've been an art teacher for a long time and I've worked in communities teaching as well as teaching art at Universities. For Aboriginal people our culture is visual and oral and in our artworks you can see it come out really strongly – and this is a major cultural strength. It's something that is a talent that Aboriginal people possess and a lot of learning happens through artwork."
While some people can learn through a positive experience with their artwork, Noel says that even telling stories that aren't so positive can be an important step towards healing.
"Art is a natural Indigenous process for making sense of the world and it works exceptionally well. I was brought into that understanding through artwork as a younger man. Even when people don't connect through their artwork, or if their stories aren't so positive, it helps us understand what some of the issues are that we might need to work with."
While the program is only new, it is already having a positive effect, with many previously isolated community members coming together through their art work. Members of the Stolen Generation and their families are encouraged to participate in the Queensland workshops.
To participate visit www.link-upqld.org.au. Workshops are funded by the Office for Aboriginal and Torres Strait Islander Health (OATSIH).