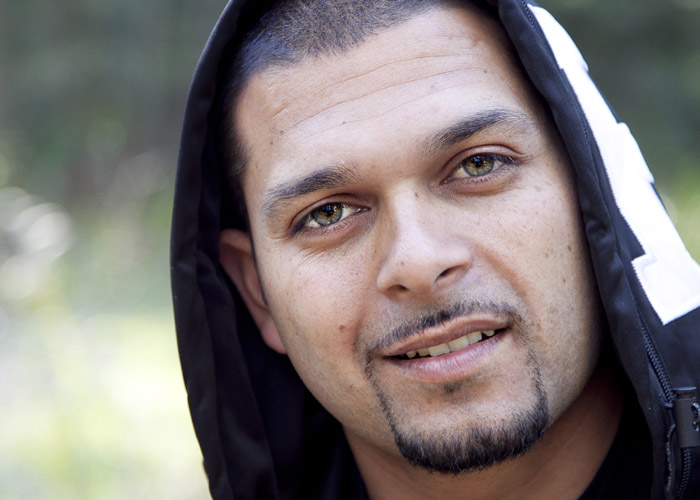 You know him as MC Weno, one third of hip hop crew The Last Kinection, but what you may not know about Joel Wenitong is that the talented rapper is also a teacher, health worker and devoted father. We sat down with the Cairns based MC who dropped some knowledge on staying healthy and happy.
Height: 180cm
Weight: 83kg
Age: 33
Mob: Gubi Gubi from South
East Queensland.
Occupation: Musician/ Uni Student
Nickname: Weno
DV: How did you first get involved in music?
JW: Through my parents, they are both musicians. I'm pretty sure they had kids just to lug gear around for them (laughs). I started doing sound, lighting and all sorts of stuff. I grew up doing a lot of production rather than actual music, and when I was 15 I started performing.
DV: What do you love about being a hip-hop performer?
Well there are so many things. I guess, performing in front of people is really good, I never had a high level of confidence in primary school or even high school for that matter, so I gave myself an opportunity to build my self esteem, getting up on the stage in front of people and speaking my mind. Through hip hop you can get out just about any emotion you can think, and you can dance to it as well which is mad.
DV: From Local Knowledge to the Last Kinection, you've now been a part of two very significant Indigenous hip hop groups – what do you think has been the secret to that success?
I believe it's hard work. You can't just sit around in the studio Facebooking people or putting your stuff on YouTube because that's really not long term. You have to get out there and perform and work for it. Getting gigs wherever you can is important and getting as much exposure as you can so people can actually see you in real life and hear your sound, because people want that connection.
In 2008, while driving home to Newcastle from a gig in Sydney, Joel, his sister Naomi, and DJ Jay Tee, were involved in a near fatal car accident in which Naomi sustained serious injuries and was left in a coma.
DV: Just what impact did the accident have towards your outlook on music and life?
For me it was hard. I didn't think that I would do music anymore after that. We had just finished the Nutches national tour with The Herd, and it was the day after that last show. We were on a massive high, it was the last gig, we had the best time and all of a sudden it was like, 'boom! This is what you get'. I honestly didn't know if Naomi was going to live, let alone jump up on stage again, so after that I just changed a lot of things that I do.
I've just had my third kid on Thursday, a little son, along with my little daughters and I've just been spending a lot of time with them, and making music and performing is now a lot more relevant to my kids. From a musical point of view, I guess I've learnt mostly to be happy with what I've got, because I never thought that rapping would take me all over the place and get me on to doing a lot of different things. Even if I didn't make it through that car accident, I'm pretty sure Nay (Naomi) would have had a pretty good life (laughs), but because I did survive, I knew that it wasn't finished yet, and that I still have a lot more work to do.
I started thinking a lot about careers, like as in careers that make money. I was a teacher at Uni so now I'm doing Medicine at Uni. I just kind of looked back on my life and made some changes, so that if that situation ever happened again, I'd know that my time on earth was used to its full potential.
DV: As well as studying medicine, you're also actively involved in health and education workshops, what's spurred your passion in health?
Health is everything really. Western medicine has the view that all problems are physical and related to the body, but for Aboriginal people, it's everything. If you don't have a good job or a good sense of culture and feel like you don't fit in, then your body gets sick, your mind gets sick, and all these illnesses all relate to each other, social, emotional well being and depression, all those things are really a part of life. I guess that's why I do music and I take it down that health road as well, because they relate so close together. I don't know how many doctors are muso's, but being a performer and getting to express what you feel as well as spreading positive messages about health and coping with things in your life is important to me.
DV: What do you like to do in your spare time?
What is this spare time you speak of? (laughs). I don't really have any spare time. I try to spend as much time with my kids as possible but I like to go for walks. Sometimes I take the kids and may be go to the playground. At other times if I haven't got too much on, I'll sit down and play a computer game, some sort of random thing where I'm in my own world. Sometimes I'll sit down and watch some anime from Japan so I can take my mind to another world, it's just my form of escaping, some people go to the pub, I'll sit down and watch videos.
DV: What is your favourite way to keep fit?
Usually riding my bike, riding to and from Uni is really good. From where I live, it's about 20kms to get there. It takes me about an hour to ride in and about an hour to ride back, three times a week. It feels amazing afterwards. With riding, you save money, save fuel and I usually beat traffic. What do you eat in an average day? I try to follow the five serves of vegetable and three serves of fruit each day. It doesn't always work out that way but at least I always keep in mind what I should be eating. For breakfast it's usually cereal and yoghurt, love those crunchy muesli type things but even a bowl of porridge if I'm broke. I try to eat a lot of vegetables and fruit throughout each day, as I don't like eating large amounts of food at one sitting, like dinner before bed.
DV: What are your favourite healthy foods?
Salads. I like going down to the shops and buying one of those bags of salad and just smash that, they are quick and easy to eat and are really healthy for you.
DV: What's your opinion on drugs and alcohol?
I don't drink, smoke or even have coffee. None of it has ever made me feel any better and I just never saw a reason for doing it. Growing up watching people perform in pubs and such, getting to see people affected by alcohol and act the way they did, turned me off ever taking anything up. I could never see the point.
DV: Any advice for Deadly Vibe readers?
Well, to all those still in school, especially the young fella's, they should remember that even if you don't like school, it's still an education that you are getting, which is really, really important. If you want to really get somewhere in the world, you need an education. You can still achieve if you don't finish high school, but it makes it a lot easier if you do. You should always take opportunities to learn new things, even if it's not at school, because it's creating skills for life which you can always use later on.