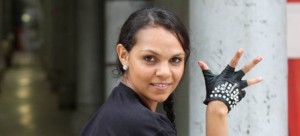 Rarriwuy Hick is a professional dancer and actor who has recently appeared in Move It Mob Style and the Bangarra Dance Theatre's production of Bloodlands. Rarriwuy comes from North East Arnhem land and combines traditional Indigenous dance with contemporary styles
How do you stay fit?
Diet is important. Depending on where I am living, when in Sydney I try to eat a lot of red meat for protein and salad and I watch my carbohydrate intake. When I go up home I eat a lot of bush food – berries, turtle and kangaroo. I also try and get to dance classes as much as I can, but if I don't I just pump the music at home and dance.
Do you have any health tips?
Don't smoke and don't drink – because it makes you put on weight – if you keep away from that stuff and eat healthy food and lots of fruit then you will stay healthy. Occasionally though, I have some chocolate – I am not a full-on health freak. Dance or play sport – just keep active – even if it's just walking to the park every day.