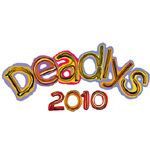 2010 DEADLY AWARDS CATEGORIES
MUSIC
MOST PROMISING NEW TALENT IN MUSIC
SINGLE RELEASE OF THE YEAR*
ALBUM OF THE YEAR*
BAND OF THE YEAR
OUTSTANDING ACHIEVEMENT IN RNB AND HIP HOP
MALE ARTIST OF THE YEAR
FEMALE ARTIST OF THE YEAR
SPORT
MOST PROMISING NEW TALENT IN SPORT
OUTSTANDING ACHIEVEMENT IN AFL
OUTSTANDING ACHIEVEMENT IN NRL
FEMALE SPORTSPERSON OF THE YEAR
MALE SPORTSPERSON OF THE YEAR
THE ARTS
DANCER OF THE YEAR
MALE ACTOR OF THE YEAR
FEMALE ACTOR OF THE YEAR
VISUAL ARTIST OF THE YEAR
FILM OF THE YEAR*
TELEVISION SHOW OF THE YEAR*
TELEVISION PERSONALITY OF THE YEAR
LIVE PRODUCTION OF THE YEAR
OUTSTANDING ACHIEVEMENT IN LITERATURE
COMMUNITY AWARDS
TO BE JUDGED BY THE DEADLY ACADEMY (PAST AWARD WINNERS)
OUTSTANDING ACHIEVEMENT IN ABORIGINAL AND TORRES STRAIT ISLANDER EDUCATION
OUTSTANDING ACHIEVEMENT IN ABORIGINAL AND TORRES STRAIT ISLANDER HEALTH
HEALTH WORKER OF THE YEAR**
OUTSTANDING ACHIEVEMENT IN ABORIGINAL AND TORRES STRAIT ISLANDER EMPLOYMENT
OUTSTANDING ACHIEVEMENT IN CULTURAL ADVANCEMENT***
COMMUNITY BROADCASTER OF THE YEAR
LEADER OF THE YEAR
DEADLYS HALL OF FAME
THE ELLA AWARD FOR LIFETIME ACHIEVEMENT IN ABORIGINAL AND TORRES STRAIT ISLANDER SPORT (DEADLYS HALL OF FAME – SPORTS)
THE JIMMY LITTLE AWARD FOR LIFETIME ACHIEVEMENT TO ABORIGINAL AND TORRES STRAIT ISLANDER MUSIC (DEADLYS HALL OF FAME – MUSIC)
* For Film, Television Show, Album and Single of the Year: these must have been released between July 2009 and June 2010. Film: a feature, short film or documentary film made for theatrical release; Television Show: any program that has been broadcast on television.
** Health Worker – Any person working in the field of health.
*** Cultural Advancement – Includes preservation, promotion and advancement of culture through language retention, art, cultural education, dance, etc.