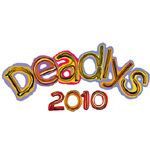 They are the quiet achievers who make a resounding difference in the lives of Aboriginal and Torres Strait Islanders every day.
From urban, regional and remote Australia, the 2010 Deadly Community Award nominees are achieving alongside their people, great things.
Today, the National Aboriginal and Torres Strait Islander Music, Sport, Entertainment and Community Awards, aka the Deadlys, announced the finalists in the community categories, recognising and celebrating life changing impact that is not measured by fleeting celebrity status but in hard won contribution and achievement.
Whether it's the rangers of East Arnhem enhancing biodiversity on Yolngu lands or the educators, employment initiatives, health workers and leaders making the difference, the Deadlys are proud of each and every nominee.
In 2010 the Community Awards include two new categories, Health Worker of the Year and Outstanding Achievement in Cultural Advancement. Nominees in these categories tell their own stories of helping to turn around the lives of Aboriginal and Torres Strait Islanders and, in many cases, life long effort to recognise and promote culture to Indigenous and non-Indigenous Australians.
Deadlys executive producer Gavin Jones congratulates all the 2010 community award nominees.
"It is a true honour to be recognised by your people and it is our privilege to organise these awards. In some small way, we are paying tribute to the great work of our community award nominees," he said.
"When you look at the biographies of the nominees, you begin to realise the world of Indigenous Australia is a very special place. I hope all Australians, Indigenous and non-Indigenous, will join me in celebrating the achievement of our community award nominees."
The Deadlys, is back for its 16th year at the Sydney Opera House on 27 September 2010.
Don't miss your opportunity to be a part of the Deadlys this year! Tickets for the 2010 Deadlys ($45 or $30 concession) are available from the Sydney Opera House.
For more information, visit www.sydneyoperahouse.com
Attached: 2010 Deadlys Community Award Finalists List (see below)
Biographies of 2010 Deadlys finalists at www.vibe.com.au/deadlys
For all media enquiries, please contact Maryann Weston on (02) 4822 8230 or [email protected]
OUTSTANDING ACHIEVEMENT IN ABORIGINAL AND TORRES STRAIT ISLANDER EDUCATION
Notre Dame College (McAuley Champagnat Program) VIC
Marnee Gruppetta (Badanami Centre for Indigenous Education, University of Western Sydney) NSW
St Teresa's Agricultural College (Aboriginal and Torres Strait Islander Education Program) Abergowrie QLD
Indigenous Electoral Participation Program (Australian Electoral Commission)

OUTSTANDING ACHIEVEMENT IN ABORIGINAL AND TORRES STRAIT ISLANDER HEALTH
Professor Peter O'Mara (Australian Indigenous Doctors' Association)
Condoman (HITnet Development Program, University of Queensland)
Back to School Program for Teenage Aboriginal Parents (Sydney Children's Hospital, Randwick)
"Who Ya Gunna Call?" (North Coast Area Health Service, Aboriginal Health) NSW

HEALTH WORKER OF THE YEAR
Robert Bergan (Tamworth Aboriginal Medical Service) NSW
Craig Bloxsome (South Coast Medical Service Aboriginal Corporation) NSW
Vicki Thom (Hawkesbury District Health Service) NSW
Colleen Cawood (La Perouse Aboriginal Community/Prince of Wales Hospital – East Sydney Area Health Service) NSW

OUTSTANDING ACHIEVEMENT IN ABORIGINAL AND TORRES STRAIT ISLANDER EMPLOYMENT
Robyn Bird-Hedges (Department of Community Services) NSW
Swim for Life Program (YMCA Perth) WA
MIGATE Yallambee Project QLD
Chantelle Young (Global Skills) NSW

OUTSTANDING ACHIEVEMENT IN CULTURAL ADVANCEMENT
Shane Phillips (Tribal Warrior Association) NSW
Rangers of East Arnhem (Dhimurru Land Management Aboriginal Corporation) NT
Koori Mail NSW
Emma Donovan NSW

COMMUNITY BROADCASTER OF THE YEAR
Glen Crump (Mission Beat) Moree NSW
Anthony Brown (3KND), Melbourne VIC
Mechelle Wilson (6NME Noongar Radio) Perth WA
Lloyd Wyles (4KIG) Townsville QLD

LEADER OF THE YEAR
Viola Davis Tolga QLD
Vince Coulthard Port Augusta SA
Jolleen Hicks Roebourne WA