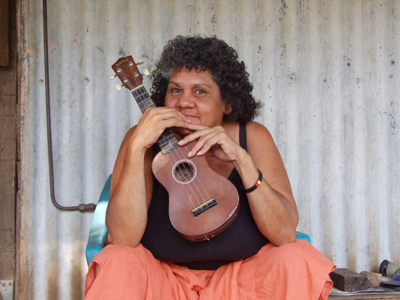 From the powerhouse performances of Dan Sultan to the unique and inspiring Northern Territory legend Ali Mills ("Waltjim Bat Matilda"), the 16th annual Deadly Awards promises to be entertainment you definitely won't want to miss.
Black Australia's stars of music, dance and film have now been confirmed to appear at the National Aboriginal and Torres Strait Islander Music, Sport, Entertainment and Community Awards, aka the Deadlys, on Monday 27 September 2010 at the Sydney Opera House.
It's a night of glitz and glamour – and grassroots musicianship, with all the thrills of a big award night. Aside from the chance to celebrate the achievements of Indigenous Australia's best and brightest, the Deadlys will offer memorable performances.
The familiar sounds of Archie Roach, one of Australia's top musicians, is sure to move the house and proud Pitjantjatjara man, the extraordinary songwriter/singer and musician Frank Yamma, will inspire audiences.
As a special Deadlys experience, pop music icon Christine Anu will perform her new single and Aboriginal and Torres Strait Islander dance will be showcased through the awe inspiring creativity of the Bangarra Dance Theatre.
The Deadlys will also be hosted by two of Australia's brightest stars, television and film actor Luke Carroll and hip hop sensation Naomi Wenitong, providing a lively, fast-paced and entertaining show.
A list of who's who in Indigenous and non-Indigenous Australia will be presenting awards, including former Olympic swimmer Ian Thorpe; rugby league star Timana Tahu; AFL great David Wirrpanda; model Samantha Harris; Jimmy Little; Casey Donovan; Chris Sarra, Director of the Queensland Government's Institute for Aboriginal and Torres Strait Islander Leadership; Her Excellency, Professor Marie Bashir AC, Governor of New South Wales; NSW Premier Kristina Keneally; Manly Sea Eagles and Indigenous All Stars prop George Rose and Queensland rap superstar Dizzy Doolan.
Executive Producer Gavin Jones says the 16th Deadlys will be entertainment at its best.
"The Deadlys just keeps getting better. Each year the most prominent entertainers in Indigenous Australia step up to be part of the show and each year the show doesn't disappoint," he says.
"And aside from the performances and the wit and entertainment of our hosts, there is the celebration of our winners. I can tell you that our finalists are all outstanding talents. From the best in music, sport, film, television and literature, it will be a unique experience to witness the nominees and the final winner in each category.
"This year our Community Awards also pay tribute to the dedication and effort given by our grassroots people in helping Aboriginal and Torres Strait Islanders reach their full potential."
Don't miss your opportunity to be a part of the Deadlys this year! Tickets for the 2010 Deadlys ($45 or $30 concession) are available from the Sydney Opera House.
For more information, visit www.sydneyoperahouse.com
Voting is still open to all for the 2010 Deadlys at www.vibe.com.au/deadlys and closes on 6 September 2010.
The Deadly Academy comprised of past Deadly winners will be back for the second year running to decide the Community and Deadlys Hall of Fame winners.
The Deadlys will be broadcast on SBS on Sunday October 3 at 10.30pm on SBS ONE and Wednesday October 6 at 8.30pm on SBS.
The full list of 2010 Deadlys Finalists and Community Award Finalists and
Biographies can be found at www.vibe.com.au/deadlys
For all media enquiries, please contact Maryann Weston on (02) 4822 8230 or [email protected]