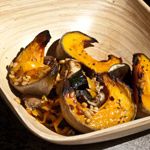 Pumpkin is the vegie of choice for a warming winter salad.
Who says salads are only for summer? Or that vegetables are only for vegetarians? This warm roasted vegetable salad is divine for the colder months when you feel like a salad but eating lettuce doesn't appeal. You can substitute all your favourite vegies or keep it simple and focus on your favourite one. Being a Murri, I just love Queensland Blue pumpkins, but you might choose Butternut instead for its sweetness.
Warm Roast Vegie Salad
Serves 6
Ingredients
1kg Queensland Blue pumpkin (peeled and cut into 2cm cubes)
1 medium eggplant (cut into 1cm wide slices)
1 red capsicum (seeded and cut into 2cm long strips)
1 yellow capsicum (seeded and cut into 2cm long strips)
2 medium zucchini (sliced)
50 grams pine nuts
4 cloves of garlic, thinly sliced
Dressing
1 tablespoon balsamic vinegar
2 tablespoons of olive oil
salt and freshly ground black pepper
Method
1. Preheat the oven to 160°C. Slowly roast all your vegies and the pine nuts on a biscuit tray for one hour.
2. Combine the roasted vegies and nuts with the sliced garlic in a large salad bowl.
3. Whisk together all the Dressing ingredients and pour over the salad. Serve warm.