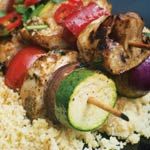 For many people, Good Friday is the day to eat fish for dinner, but these fish-and-vegie skewers are delicious on any day of the week.
Saltwater people eat fish all year round, but some people focus on fish as the main dish at Easter, especially on Good Friday. Fish skewers make a great summer meal. They're fun to make, and easy to cook and eat. Even kids love them. They're full of colour and good nutrition. You can use any firm fish to put on the skewers and vary the vegetables to suit your own tastes. Ling fish works well, but you can also try swordfish, shark, atlantic salmon or snapper or ask your fish shop for suitable alternatives.
Fish skewers
8 wooden skewers
800g ling fish fillets, cut into cubes (2.5cm/1 inch square)
4 fresh vegies (eg button mushrooms, capsicum, zucchini, red onion), cut into cubes (2.5cm/1 inch square)
8 cherry tomatoes
1 cup instant couscous
1/4 cup of chopped parsley and sesame seeds (to garnish)
salt and pepper to taste
Sauce
150ml soy sauce
1 teaspoon of fish sauce
1 clove garlic, finely chopped
1 teaspoons of brown sugar
2 teaspoons grated ginger
two drops of sesame oil
2 small red chillies, finely chopped (optional)
juice of one lime or lemon
2 tablespoons of finely chopped coriander
Method
1 Put together your fish skewers, alternating the cubes of fish, vegetables and the cherry tomatoes evenly between the 8 skewers.
2 In a small jug, mix together the sauce ingredients.
3 Put fish skewers in a shallow dish and pour over the sauce. Put the dish in the fridge for one hour.
4 Meanwhile, cook the couscous in water with a squeeze of lemon, according to the packet directions.
4 Cook fish skewers on a very hot BBQ or frying pan for 1 minute. Turn over and cook for another minute or until cooked.
To serve: place the fish skewers on each plate of couscous. Sprinkle with chopped parsley and sesame seeds. Season with salt and pepper to taste.