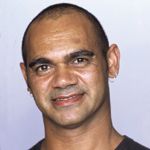 Deadly Vibe Issue 99 May 2005
Growing Pains
From child star to award-winning composer – David Page comes of age.
While most of us were still playing happily running around the backyard, David Page was performing on television and recording top ten singles. An all-singing, all-dancing child star, little Davey Page was Australia's answer to a young Michael Jackson.
Born the eighth child of 12 in the extraordinarily talented Page clan, David grew up on a Brisbane housing commission estate. At the age of 12 he won the local talent quest at the Sunnybank Hotel in Mount Gravatt, south east of Brisbane. It was here that he was spotted by a talent scout from Atlantic Records, who saw his potential and signed him up.
"Growing up surrounded by so many siblings was crazy but good," David recalls. "There was definitely never a dull moment! I had six older sisters, and they all used to sing at the talent quest in Mount Gravatt. Mum would send me along with them to make sure they came home on time. One day I decided that I wanted to sing too, and it all started from there."
Two hit singles followed, as well as television appearances on Countdown and The Paul Hogan Show, but his career as a child star was cut short when, at 15, his voice broke. Little Davey Page was no longer.
"I'd really been thrown in the deep end," David says. "But I think the experiences I had as a teenager have made me what I am today."
David has since become a composer for Bangarra Dance Theatre, working with his talented brothers, current Bangarra artistic director Stephen, and Russell, who tragically took his own life in 2002.
David has composed scores for many successful Bangarra productions, including Bush and Unaipon. He has also composed music for film and television, and has won countless awards and accolades for his work.
David tells his coming-of-age story in Page 8, a beautifully-crafted account that combines storytelling, singing, dancing, Super 8 home movies and even drag. Co-written by David and playwright Louis Nowra and directed by David's brother Stephen, Page 8 is, as described by Stephen, "a love-letter to the brothers' family, history and culture".
"It was Stephen's idea to do a one-man show in the beginning," David says. "I was really scared in the beginning – who would want to hear about my boring life? But writing it with Louis Nowra really helped me to get the story right. He really got into my head and my heart.
"People can really relate to my show, because it deals with things like family and respect. I've got a lot of positive feedback."
David regards Stephen as a real inspiration in his life, and each brother sees the other as a role-model.
"I respect Stephen with all my heart," David says. "But there are so many talented people who I view as an inspiration or a role model. People like Jimmy Little, Kath Walker, Lydia Miller, Bob Maza, Gary Foley, Deb Mailman – all these people have proven that we really can get up off our backsides and achieve something special.
"They've also got something positive to say. A lot of people are too focused on the negative all the time. I don't think that's what life is about."
For more information on Page 8 go to www.sydneyoperahouse.com/boxoffice, email [email protected] or call (02) 9250 7777.
(story 1/5/2005 end)
Born in Brisbane, David is a descendant of the Munaldjali clan, part of the Bundjalung nation from southeast Queensland.
David's music career began as a singer at age 13 when he recorded two singles for WEA and sang on television. In 1991 he joined Bangarra Dance Theatre as resident composer and performer, working on productions including Up Until Now, Gapan Sagnal, Ochres, Black Vine, Ninni and Praying Mantis Dreaming.
In 1995, 1996, and 1997, David won back-to-back Best Soundtrack Deadlys for Bangarra's Ochre, The Australian Ballet's Alchemy, and Bangarra's Fish. David has also composed for television including "Poison" for ABC's Blackout series, "Pride", for Seven Deadly Sins series, Songlines and the theme music for Heartland, for which he received an APRA nomination.
Most recently, David collaborated with Steve Francis on the music for Bangarra's Skin and was the first person to win the Individual Indigenous Artist award at the Sidney Meyer Performing Arts Awards.