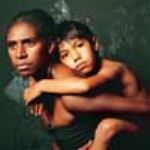 David Page
Born in Brisbane, David is a descendant of the Munaldjali clan, part of the Bundjalung nation from southeast Queensland.
David's music career began as a singer at age 13 when he recorded two singles for WEA and sang on television. In 1991 he joined Bangarra Dance Theatre as resident composer and performer, working on productions including Up Until Now, Gapan Sagnal, Ochres, Black Vine, Ninni and Praying Mantis Dreaming.
In 1995, 1996, and 1997, David won back-to-back Best Soundtrack Deadlys for Bangarra's Ochre, The Australian Ballet's Alchemy, and Bangarra's Fish. David has also composed for television including "Poison" for ABC's Blackout series, "Pride", for Seven Deadly Sins series, Songlines and the theme music for Heartland, for which he received an APRA nomination.
Most recently, David collaborated with Steve Francis on the music for Bangarra's Skin and was the first person to win the Individual Indigenous Artist award at the Sidney Meyer Performing Arts Awards.
Steve Francis
Steve Francis is a music producer and composer who has worked with Bob Geldof, the Divinyls and the Australian Ballet. He has composed music for ABC TV's award-winning Box, SBS TV's Passing Through, the Australian Film Commission's Saturday Night, Sunday Morning and Leah Purcell's one-woman show Box The Pony.
For Bangarra Dance Theatre he has produced the music for Fish, co-composed Bipotim for DanceClan, and composed/produced music for Skin and Corroboree. Steve also produced and co-composed music for Awakenings, the Indigenous section of the Sydney 2000 Olympic Games' opening ceremony.
Most recently Steve composed the score for Wayne Blair's film Black Talk, which debuted at the 2002 Sydney Film Festival.