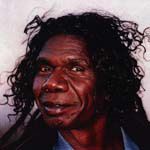 Deadly Vibe Issue 93 November 2004
The world's his stage
Throughout David Gulpilil's one-man show which has been playing around the nation this year, he makes much of the trophies he's won during his long and distinguished acting career.
Now David can add another trophy to his collection – a big, pointy Deadly award and a Deadly ruby ring!
David made a hurried dash to the Opera House for the awards ceremony – he was due on stage later that night at Belvoir Street Theatre for one of the final nights of Gulpilil at the Belvoir Theatre.
As he swept through the crowd in his long black leather coat, David spotted old friend Bobby McLeod, and almost knocked the country singer to his feet as he gave him a gigantic bear hug!
When David was announced the winner of the Actor of the Year category, a huge cheer went up from the crowd. The excited actor, who first shot to fame as a teenager when he landed a lead role in the film Walkabout, quickly made his way to the microphone where he accepted his trophy.
David said: "I've done a good job for Australia and I love you Australians!"
He also recalled how he danced in front of the Opera House as young fella, for an audience that included Queen Elizabeth.
(story 1/11/2004 end)
David was born in 1953, in Arnhem Land in the Northern Territory. In 1969 British director Nicholas Roeg chose David as the lead in the groundbreaking film Walkabout.
He has since starred in many films including Mad Dog Morgan, The Last Wave, directed by Peter Weir, Storm Boy and Rabbit-Proof Fence, directed by Phil Noyce. David recently starred in Rolf de Heer's new feature film The Tracker.
In 1987 David was awarded the Australia Medal for his services to the Arts.