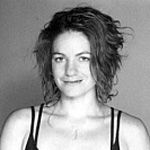 Peta is a descendant of the Dharug people from the Kurrajong area of NSW. Peta began her dance training at the age of 13 with the Castlereigh School of Ballet, she studied the Ceccetti style of ballet ti immediate level, she also tought Jazz and Contemporary dance to classes at the school.
While studying at NAISDA, she travelled to Ernabella in the Central Desert and to the Torres Strait Islands and in 1994 was invited to join AIDT the Company under the Artistic direction of Raymond Blanco in doing so Peta performed in Australia,Indonesia,NZ and Latin America.
Since then she has worked as a freelance dancer teaching and choregraphing for young people in communities such as Yirrikala and Katherine,as well as Canberra, where she also performed with the Jarem Dance Theatre. Peta who a proud mother of two daughters Gapala and Dharpaloco, is a founding member of Mimarr, a woman's dance group based in the Sydneys western suburbs.
Peta joined Bangarra Dance Theatre in 2000, appearing in the opening ceremony for the Olympic Arts Festival – Tubowgule, the opening and closing ceremonies of the Sydney Olympic Games, Skin and Corroboree and The Dreaming show to Noumea and the US. She performed with Bangarra in Walkabout in Melbourne Sydney and Brisabane.
Peta since leaving Bangarra Dance Theatre is a freelance performer, to date she has performed in Jindabyne for the festival of the mountain with Garabarras and performed at the 2002 channel 7 xmas party.Peta has also remained in contact with the Castlereigh School of Ballet where she was a student, she hopes to one day open her own Ballet School and to continue teach and inspire the Indigenous youth.