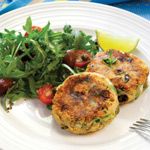 Fishing for other ways to serve fish? These yummy salmon patties are a piece of cake to make.
Eating two serves of oily fish each week is recommended for good health, but not everyone likes strong-tasting salmon or has access to cheap fresh fish. This recipe offers an alternative using canned fish. These fish cakes are mild in flavour, thanks to the addition of mashed potato, and they're baked instead of fried.
Salmon Fish Cakes (Makes 10)
4 medium potatoes (or sweet potatoes)
500 gram tin of pink salmon, drained
1 small white onion, finely chopped
1 clove garlic, finely chopped
2 tablespoons of fresh, chopped dill
1 carrot, grated
1 egg, beaten (optional)
plain flour
spray olive oil
Dipping sauce
1 Lebanese cucumber, finely diced
juice of 1 lime
200 gram tub of natural yoghurt
2 tablespoons of chopped mint
1/2 teaspoon of fish sauce
Method
1 Preheat oven to 180oC. Boil the potatoes on the stovetop and mash them. Set aside to cool slightly.
2 Combine mash with salmon, onion, garlic, dill, carrot and egg. (If you're watching your cholesterol, leave out the egg and, instead, refrigerate the mixture for 30 minutes before cooking.)
3 Divide mixture into 10 portions and make each into a patty. Flour lightly.
4 Spray a baking tray with olive oil. Place patties on tray and bake in the oven for 15 mins.
5 Make the dipping sauce by combining all ingredients in a bowl.
To serve For a light summer lunch or dinner, serve the cakes warm with a simple garden salad of fresh lettuce and cherry tomatoes.