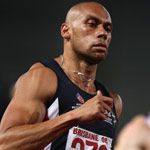 In 2003, the fastest sprinter in the world was Patrick Johnson, who ran 100 metres in 9.93 seconds – the world record at that time. He remains the first ever non-African person to hold the world record. These days Patrick is in training for the 100m and 200m sprints for the 2010 Commonwealth Games in New Delhi, India. The selection trials are in April 2010 at the National Championships in Perth where Johnson's task is to beat the field and ensure he runs it in under 10.21 seconds. Go Patrick!
STATISTICS
Height: 172 cm
Weight: 74 kg
Age: 37
Mob: Umpila from Lockhart River and Yarrabah mobs
Occupation: Professional Athlete – Sprinter
Nickname: Flash
Brothers and sisters: I had a brother who passed away a couple of years ago, Ryan, and a sister, Porky.
How long have you been sprinting?
I've been sprinting for 10 years.
How did you get involved in athletics?
By accident, actually! I was studying Asian Studies and Politics at the Australian National University in Canberra and two mates of mine, Rupert Fakora and Garth Livermore, encouraged me to do athletics. They coached me for a week and I won the 100m sprint at the University Games. That's how it all began.
What do you love about the sport?
When you're running, you have a free spirit and you're at one with nature. My spirit is free when I run.
What is your best athletic attribute?
Probably my calves – I've got blackfella calves, they're really small. I don't get many injuries when I run. Most of the top sprinters have small calves.
How did you break the World Record for the 100-metre sprint?
I have a passion for running. I have the discipline and I truly believed that I could do it.
What does an average training session involve?
My coach, Anthony Georgiou, trains me six hours a day. I do a combination of weight training and running training, including block sessions, an endurance session and a speed session.
What's your favourite form of training?
I like sprinting at top speed. When I made the World Record it actually felt easy, like I was jogging. If you run fast, you don't remember anything. Running fast means your mind and body are connected and you're 'in the zone'.
What does your training diet consist of?
I try to eat more protein than carbohydrates, which I eat in the form of fruit and vegetables. For breakfast I'll have banana, blueberries or strawberries with low-fat and low-sugar yogurt. A typical lunch is tuna or sushi and salad, and for dinner I'll have steamed vegies with steak and fish, mostly salmon, tuna or barramundi, which I bake with ginger and shallots and a bit of fresh chilli on the side. Sometimes I bake them with a bit of extra virgin olive oil, no butter. My favourite vegie is asparagus. I only eat foods with less than 10 grams of sugar per serving. You get your best sugars from fruit.
What is the weirdest food you've seen travelling overseas?
Tripe, that is, pig guts. I saw people eating it in China. I've eaten it myself, but it's definitely an acquired taste.
Do you have a favourite cheat food or way to vary your diet to get your favourite food in?
I like jelly – all flavours. I put it in my protein shakes.
What about drugs and alcohol?
I don't do drugs and alcohol. It jeopardises your health and it affects your mental and physical performance. If you want to be the best in your field, you say no to drugs and alcohol. Simple as that!
What advice do you have for Deadly Vibe readers?
There are no limitations in life. Only those you put on yourself. That's what I live by.