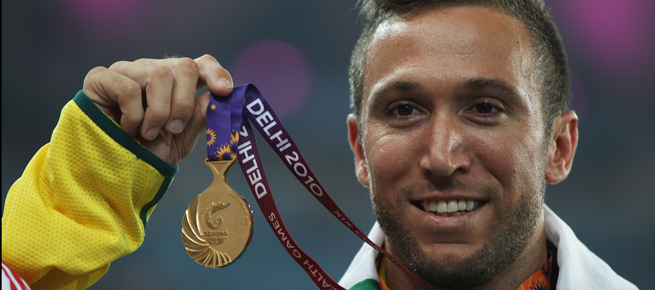 Benn Harradine is on top of the world after winning Gold at the Delhi Games, and thanks to a new mental approach, believes even greater achievements are on the horizon.
"When I walked into the circle, I felt invincible. I really felt that no one is going to take this away from me. This is my moment, right now. I knew I was 100 percent fit and there was no way anything was going to not allow me go home with the gold," Benn says.
With words like those, it's clear to see three months after the Delhi Games, discus champion Benn Harradine is still buzzing from his history making Gold medal win. They also reveal just how crucial the mental aspects of competitive sports has become and, how, for an elite athlete like Benn, having the right frame of mind can often mean the difference between winning and losing.
Having already competed at the 2008 Beijing Games and 2006 Commonwealth Games, and broken the Australian discus record twice, Benn had been steadily inching closer and closer to his goal of winning Commonwealth Gold, but says it was a crucial 12 month period leading into Delhi, where he mixed up his training and concentrated on his mental approach, that helped deliver him a new coemptive edge.
Of particular assistance was Jürgen Schult, a former German Olympian and the current world recorder holder in men's discus, who has been training with Benn and helping him to further his throwing distance.
"When training, he always tells me 'it's ok' or 'it's an improvement', it's never 'good', because when you are 'good', it's already over, your development is finished," says Benn.
"He tells me to always keep going and to keep pushing toward my goals and never to be satisfied with what I do and in that sense, he really keeps me motivated and inspired to push on."
Also working with sports' psychologists, Benn focused on training his mind to coordinate with his body, eliminating any fears, doubts and uncertainties about himself.
"The biggest thing for me was to mentally organise myself a bit better and I think that was the key. Having more confidence going into the meet and acting like I deserve to be there because, really, I do deserve to be there," he says.
]Obviously, the approach paid dividends in Delhi, with Benn winning Gold by throwing 65.45m in the discus final, just a metre short of his person best, and just outside the Commonwealth Games record of 66.36m.
"For me I guess it didn't sink in till I could really share that moment with my family when I came home," says Benn. "My parents and my brother, and all my extended family, they know what I had to do to get to where I am at the moment. I finally achieved what they knew I had wanted for so long, it was really just a massive emotional moment."
In achieving his long held dream, Benn became the first ever Indigenous Australian to win a field medal at a major championship, a record he is fiercely proud of, along with his Indigenous heritage – something he only learned of at the age of 22.
Since then, Benn and his family threw themselves headlong into learning as much as possible about their Indigenous heritage, as well as finding and connecting with relatives. Benn has also been a regular visitor to Indigenous communities, holding mentoring and sporting clinics – something he is looking forward to doing a lot more of in the future. Inspiring kids to get active and excited about their own abilities, is something he is passionate about.
"I've been going to communities for four or five years now and I hadn't won a medal then, hadn't won a championship, but what I did was something that inspired them. It has been a great experience for me just being able to give something to the kids, while they give back to me, a learning experience about my culture," says Benn.
With a taste of Commonwealth Gold, Benn is now hungrier than ever for the Olympic variety. A further two metres on his throwing distance will put him right in Gold Medal territory at the 2012 Olympics in London, and that's the focus right now.
"Hanging out with the other nations and just mixing, supporting your crew…the whole international sporting stage and seeing people do their best or worst while striving to reach their goals, is something I couldn't live my life without."