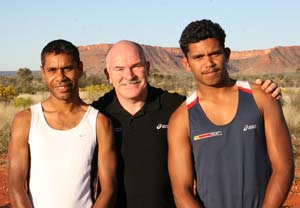 "Not everyone can run a marathon because it takes a bit of ticker."
That was the advice from the former world-champ marathon runner Robert de Castella as he was mentoring and training Charlie Maher to run in last year's New York Marathon.
The Northern Territory Thunder footballer was one of a small group of athletes to be part of the Indigenous Marathon Project – the first ever Indigenous Marathon team to participate in the celebrated 42km New York Marathon in November last year. Maher ran it in three hours 32 minutes.
Earlier this year he shaved 10 minutes off this time, running the Boston Marathon in three hours 22 minutes.
Considering he had only been training for these events for a year beforehand they are incredible achievements that have inspired family, communities and the nation.
But Charlie remains humble about his accomplishments, saying he does what he does to inspire other young Indigenous people to be the best they can be.
Charlie is probably better known in his area as a footballer, but the self-effacing 28-year-old has proven he is a great athlete by competing in the marathons, especially while juggling his football career.
"It was a great experience, I went over with three other Indigenous lads and we did about 10 months' training leading up to it," he says.
"I was also playing footy at the time with the NT Thunder and juggling training for a marathon. It was busy and tiring and I was getting fatigued all the time but it was a great trip."
Working with Coach John Bell and mentor Robert de Castella has also been a "fantastic" experience.
"Rob de Castella knows what he is talking about so we listened to him and learnt. He gave us great advice about it and how to prepare and also how to look after ourselves.
"Rob told us that a marathon is more mental than physical. You just need to have a clear head and be strong-minded.
I kept myself going by thinking about the people who had supported me the whole way through – my family and friends. I thought about them because without their support I wouldn't have been able to do it."
Charlie says running a marathon can be punishing on the body.
"You go through good times and bad times in a marathon because it is such a long distance but you push through. Your body experiences a lot of pain. Rob said you just keep putting one foot in front of the other and eventually you get there."
"When I crossed the line in New York it was so amazing, there was so much relief, so much training for it – all of the morning runs. I thought about how all four of us went to New York and we all had different personal stuff going on but we managed to do it."
He also used his distance running to raise money for a good cause.
"When I went to Boston, I decided to raise some money for the Western Desert Mob renal dialysis unit. I raised $1800 for them. I was really proud to help them."
Charlie ran the New York Marathon along with Joseph Davies, Juan Darwin and Caleb Hart.
He says for the time being he is focusing on footy, although Rob de Castella still keeps in regular contact with him.
"Marathons are something I love doing and I might do in the future. It is also a good way to keep in shape for my footy."
Apart from playing football, Charlie works for the Clontarf Foundation in Alice Springs as a mentor working with Indigenous and non-Indigenous children.
"We have a program with the schools – an academy. We do footy training in the mornings and after school and take them to camps. The only way they can come to camps is if they attend school and their behaviour is good and their attendance in our program is up. It is a really rewarding job and a lot of these kids really look up to us. If they see us doing positive things they think they can do anything as well," he says.
He says the Clontarf Foundation also teaches young people about following a healthy lifestyle and eating the right foods.
"Through Clontarf we use football as a 'carrot' to get them to school because the kids all love playing footy. We also make sure they have a nutritious lunch and breakfast. Some of these kids come from the town camps around town and it is good to get them into school. It helps tremendously. They love being around us."
Charlie says he encourages young people to chase their dreams, even if it means moving away to other cities.
"Kids are really isolated in Alice Springs. I encourage them to go out into the big world and pursue whatever they're good at, that it is not that daunting. There is good support out there and good people out there who can help," he says.
"You try and set an example. I grew up here and moved away to try footy and studies. A lot of people my age stayed here. They didn't have a goal, but I wanted to get away to try something new.
"Now I've been able to come back and pass that on to these kids. A lot of these kids look up to me so I have to do the right thing by them. I wouldn't be doing it if I didn't care about the next generation coming through. I want to show them that there are opportunities for Indigenous kids to do anything they want."